Hello everyone! Some info about what's coming up on Babestation Xtreme this weekend! We have live shows, brand new BSX films, new Killergram features as well as never-before-seen footage from previous Live shows; what happens when the camera stops rolling?
Some of the highlights:
Friday
LIVE SHOW featuring Tina Love and Rio Lee – should the be the usual schedule, with two segments between 12 and 1am.
Also, an exclusive new film with Lolly Badcock & Michelle Moist. The plot? Lolly is a working girl in Michelle's whorehouse but Michelle thinks she can do better, so takes it upon herself to open Lolly up to some of the opportunities available
Some unseen footage from the live show with Dani O Neil & Jamie Brooks
Saturday
LIVE SHOW featuring Michelle Moist & Leah Jaye in her first Live show
Another new movie featuring Jada & Kimmy. This time Jada plays the high Class Escort helping Kimmy over her cheating Boyfriend.
Unseen footage from the live show we filmed a few weeks ago featuring Lolly & Angel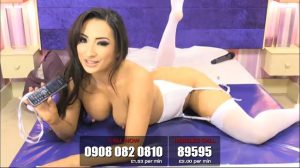 Sunday
Brand new & exclusive film with Lolly Badcock & Angel Long. The spotlight is on the golden chez lounge as Lolly tastes Angel in all the right & wrong places with her tongue going ten to the dozen and Angel loving it – Plenty of close ups!
Unseen footage with Michelle Moist & Evey from their super hot Live set
Plus super Hot sexy porno action with Dani, Karina, Camilla & More
In case you don't know, Babestation Xtreme can be purchased for £5 behind the red button of Freeview channel 96, and at bsx.tv from 11pm. Show starts at midnight on channel 96!