Listen in long enough on a Babestation call and you'll encounter some pretty strange stuff before you get to balloons. Requests from guys for girls to do or say certain things like crush plastic cups under foot or pretend that they are giants and the guy is tiny and lives in their pocket – and that's just on the daytime show.
The nighttime channels experience their fair share of odd fetishes too, some slightly more extreme than those but only on rare occasions. The majority of the fetish calls are (probably unsurprisingly) about feet – requests for girls to show their soles, dangle their shoe from the end of their foot or wiggle their toes. Fetishes like that can easily be satisfied on the spot by the performer, but some require a little bit of preparation.
For one particular show, Babestation TV decided to concentrate its focus on the 'looner' crowd. Those audience members who have a fetish for (did you guess it?) balloons.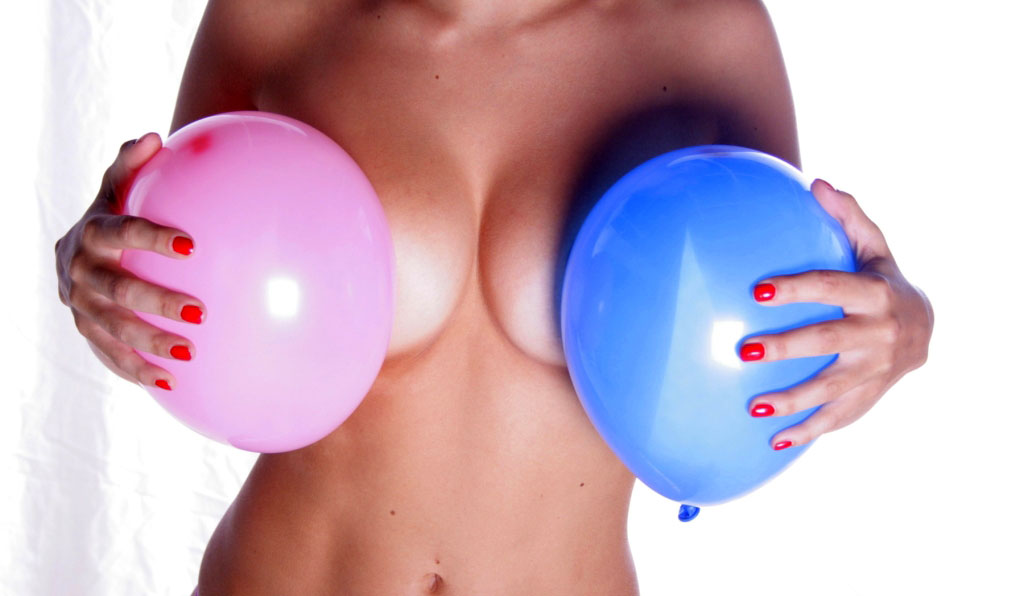 Some time between 2013-2016 on the Tumblr account, @Babe_TV, a review of this uniquely special show was posted:
"'Babestation Balloon' was an isolated babeshow quirk which was trialled on Freeview Channel 97 late in the Autumn of 2011 and only ran for a few shows. While the babes referred to the programme as 'Babestation Balloon', the name was never made official and the EPG still showed the name of the channel's base show – Babestation Blue. The trial was implemented as part of a wider experiment on Freeview 97 which culminated in the arrival of Masti Nights, Dirty Wives and Babestation Apprentice as well as a very brief trial for Sexstation.
'Babestation Balloon' was unusual among the trials in a number of ways. Firstly, it retained basic Babestation Blue graphics and saw no significant visual redesign beyond the obvious addition of a mass of balloons to the set. Secondly, 'BS Balloon' very briefly revived the concept of live, onscreen text chat, with viewers sending in texts, getting them read out on air and sometimes getting their requests carried out by the girls.
The show was pretty obviously geared towards the fetish audience and as you might imagine a fair number of calls and texts were requests for the girls to burst the balloons, lick them, sit on them, whatever."
@Babe_TV describes one particular sequence as follows:
"In the main image, Kandi Kay is responding to a balloon bursting request and in the two smaller frames, presenter Megan Moore has blown up a pink balloon on screen which Megan Coxxx is licking before Tommie Jo uses some serious boots to heel the living crap out of it. I suspect that if you had a balloon fetish, this was pretty exciting stuff.
But the requests were not all balloon orientated and the popular fetish of feet was never far from the front of the text queue."
It wasn't just for the 'looners' and the feet guys that this style of show was fun to watch, as @Babeshow_TV goes on to say, those without a predisposed liking for balloons could also enjoy it for other, entertaining reasons:
"I also thought 'Babestation Balloon' was a good, quirky and less predictable alternative to the then new-to-Freeview Playboy TV Chat. Whilst I don't have anything resembling a balloon fetish or a foot fetish for that matter, I really liked 'Babestation Balloon'. It was different and colourful and it's unpredictable wackiness subtly reminded me of great interactive programmes like Party Girls and the original BS Xtra text show.
While Babestation has produced countless BDSM and bondage videos, foot fetish videos and even a sploshing* scene or too this was the first time a show on tv had been dedicated to using balloons in such a fetish driven way. Perhaps this was too much of a niche market to be effective as a recurring theme, perhaps the best place for shows with a more fetishistic bent is on Babestationcams.com where the viewers can interact on a more personal level with the performer via webcam. But for sheer enjoyment, both for viewer and performer this one certainly has it's place among the more entertaining shows in Babestation's history."
*Sploshing A.K.A, WAM, (Wet And Messy, usually with food)