Dionne Mendez Babestation Shower 2009
The following blog is taken from @Babe_TV's now defunct Tumblr account, detailing one of Dionne Mendez's old Babestation 1 appearances from 2009.
The Babestation brand was still relatively new to terrestrial screens at this point in time. Babestation had previously broadcast on Freeview from September 2008 to March 2009 under the alias of Party Girls, with cheap, knock-up sets and very low bandwidth. But it didn't arrive on Freeview under its own name, with its Sky TV sets and quality, until mid May 2009. First screening on Channel 33, Babestation 1 briefly broadcast in 4:3 screen format, but went widescreen from the night of 9th to 10th June. Until late August '09, BS1 was the only Babestation Sky channel to be duplicated to Freeview, and its only terrestrial competition came from Partyland (at the time Cellcast-owned, but independent from Babestation), and Party People, which was basically a Cellcast daytime show with a very early, 3am start.
Dionne Mendez was one of Babestation's premier models at the time of this shower room image – 19th August 2009. (IMAGE UNAVAILABLE) That summer, Babestation 1's individual sections were still pretty evenly divided down to half an hour per model, and the channel would rotate seven or so models, one after the other, through the course of the night.  With the channel in its infancy, attracting and keeping viewers would inevitably have been a major priority, and with no alternative Babestation babe channels broadcasting on Freeview, a fast-moving schedule was the only way to maintain the necessary variety.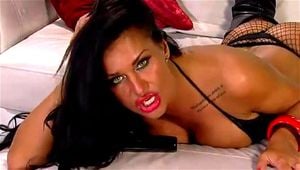 It's evident here that the old-style graphics didn't intrude much on the view. This capture fairly narrowly pre-dates the point in late 2009 where the video inset was re-dedicated to text ads.
See more of Dionne Mendez by becoming a VIP member and gaining access to loads of archived pics and video content.