Beth Bennett Carwash Sex With Jess & Roxi
What could be better than watching a trip of sexy babes out in the open air getting soaking wet whilst washing a car? Well, it definitely gets much much better when it is sexy Babestation Kiwi Beth Bennett, British porn star babe Roxi Keogh, and classic babeshow model Jess West! And the experience is even further enhanced when they not only get their kit off, but then start pleasuring each other on the bonnet of the car!
Firstly the sexy half naked babes get themselves prepared by getting all wet! Aiming the hose at their sexy curves, they shower themselves with cold water in the open air.
Before long, the 3 sexy carwash babes are fully nude and getting it on, gyrating and grinding together and arching their bodies over the front of the car.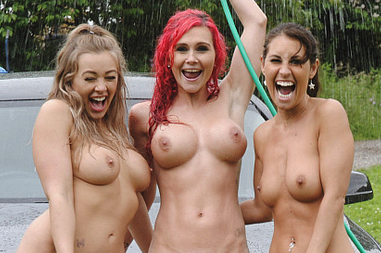 As the whole neighbourhood gets a full eyeful, the girls continue to enjoy themselves and give an experience that anyone would love to get at their local carwash!
View the full sexy 3 girl carwash photoshoot, and an enormous amount more, by joining Babestation VIP today! And don't forget that all VIP members get a generous amount of free credits to use for live sex cams and phone sex every month!