Cheap Phone Sex & Horny Adult Phone Chat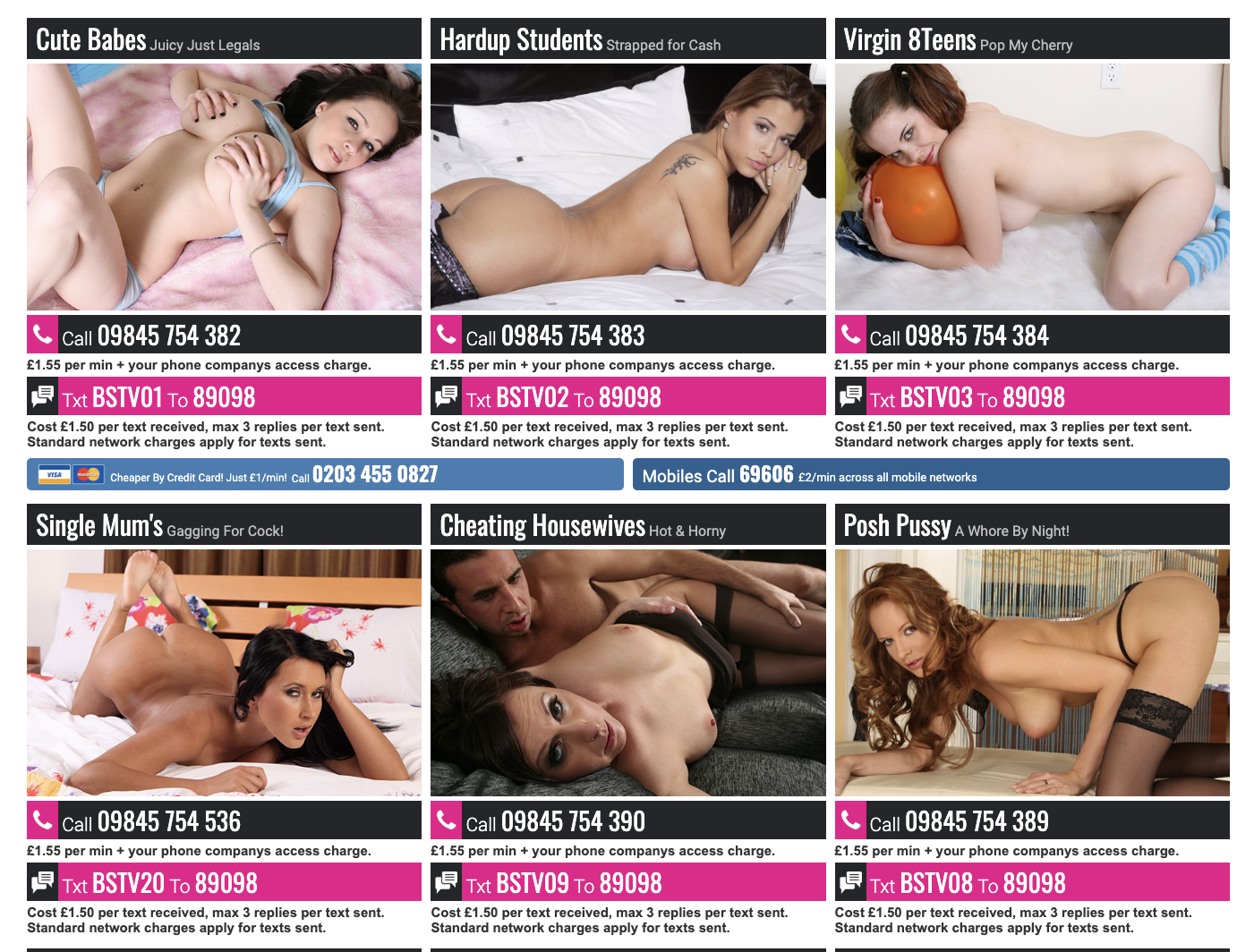 Babestation is the UK's biggest provider of cheap phone sex, adult phone chat and horny credit card phone sex. For over 20 years we have been giving our callers the hot filthy UK phone sex sessions they crave. Whether you call into one of Babestation's classic sexy TV shows, or stay right here on the Babestation website, we have the biggest and best selection of dirty talking phone sex chat babes anywhere. Register right now for Babestation and you can get the best cheap sex lines around with the best phone sex chat babes in the business!
Only at Babestation can callers connect on a 121 phone sex chat with the biggest UK glamour babes. The best babeshow babes, British porn stars and live cam girls the UK has to offer, right here. But not only that! No other adult phone sex site has as wide a selection of mobile phone sex babes. We have thousands of hot women waiting for your call, from amateurs at home, to MILF phone sex, granny phone sex and big boobs phone sex, all just desperate for the chance for a sexy 121 sex phone chat with you right now. Check out our phone sex numbers right now!
About Babestation
Babestation is the home of UK phone sex! Way back in 2002, Babestation exploded on to UK TV screens. The British public had never seen anything like this before! Hot UK glamour babes getting steamy live on their TV screens, and most importantly, taking cheap mobile phone sex calls from viewers at home, whilst live on TV! Fans would simply call the phone sex numbers on screen, choose babe 1, 2 or 3, and connect right away on a cheap sex chat with the babe of their dreams!
Worldwide Digital Media Ltd PO Box 143 BN18 8DF. Users must be over 18 years old and must have the bill payers permission. Calls to 098 cost £1.55 per min, – plus your phone company's access charge. All live calls are recorded in line with PSA regulations. Live Service provided by Luv2Chat PO Box 143 BN18 8DF. You must be over 18 years . Texts Cost £1.50 per message received, maximum of 3 replies per message sent. Standard network charges may apply for messages sent. Text STOP to 89098 to stop receiving messages. Photos are of models and are for display purposes only. Some automated messages may be sent for billing purposes. This is not a subscription service. All sms text chat and phone services are for adult sexual entertainment/fantasy/role play purposes only with no guarantee of meeting made or implied. All women displayed on this site are over 18 years old. Helpline 0333 313 0018. We reserve the right to send you future promotional messages. To opt out of receiving marketing messages text OPTOUT to 89098.
Babestation was so successful, that over the years, many imitators came and went. From Bang Babes to Studio66, to Rampant TV and Xpanded – all following the phone sex chat based format that Babestation invented.
Fast forward to the present day, and Babestation is the last babechannel standing! As the inventor of cheap phone sex and adult sex chat TV channels, Babestation was the first, and can still now be seen on multiple channels across SKY TV and Freeview, with users still able to dial the sex chat line number on screen and chat to the hottest and horniest babes in the UK.
But not only that, Babestation has taken advantage of all of the new technologies to make a better, easier and cheaper way for phone sex UK fans to connect to their favourite phone sex lines. Simply register for Babecall now, and you can pay for your 121 phone sex sessions via your credit card, open banking or via your phone bill. You can call via a landline phone number, or via this website right now. You can even take things further with your favourite Babestation babe and get her on live sex cam session so you can see her on video as well as hear her sexy voice.
Do you still want to call a premium rate number to access the cheap UK phone sex in the UK? Don't worry, we have that too! Just click here to get a selection of the filthiest adultphone sex numbers around.
What is Phone Sex from Babestation?
Our phone sex chat lines are known for being highly cost-effective, ensuring that you receive the best possible value for your money. With our affordable rates, you can indulge in some naughty live121chat without having to worry about any financial burden. By utilizing our premium rate cheapphonesex numbers, you have the freedom to browse through the profiles of all our online girls and pick the one who truly excites you, guaranteeing a satisfying live phone sex chat experience.
After selecting your desired babe, you can simply sit back and unwind while she aids in fulfilling your fantasy. Our adult phone chat UK offer a wide range of choices including blondes, brunettes, and redheads, as well as both curvy and petite women, mature ladies and grannies, young 18+ teens in dire need, and hardcore promiscuous girls who are eagerly waiting to satisfy your desires.
Our live phone sex operators are skilled at delivering erotic conversations that are sure to leave you aroused and satisfied. Babestation's mobile sex chat offers the most authentic and filthy phone sex experience available. Take action now and connect with our sultry chat hosts who are eager to bring your fantasies to life. Dial our numbers today for an unforgettable encounter with some of the most alluring women on the lines.
Cheap Phone Sex Categories
Babestation TV Babes
The only place in the world where you can get on a hot naughty cheap phone sex session live and 121 phone sex with the sexiest babes in Britain. Babestation features the biggest selection of babechannel babes, British porn stars and UK glamour babes, and YOU can speak to them live. Register NOW and get chatting.
Big Boobs
Talk to all the best big boobs phone sex babes, by reaching out to our girls on the big tits hotline. They will gladly satisfy your desires by providing you with a tit wank that will leave you thoroughly satisfied. Indulge yourself in playing with their nipples as they get your cock between their breasts, until you reach climax. Our phone sex chat line girls are ready to give you the experience of a lifetime.
Mature
It is often said that as we grow older, we gain valuable experience. The same can be said for our mature phone sex babes who are anything but innocent. Our daring grandmothers, mothers, homemakers and older women have mastered the art of pleasing you to the fullest extent possible. They are eager to engage in explicit conversations with you, being bored, sexually aroused and ready to go all out.
Blondes
Our playful and lively blonde girls certainly believe that blondes have more fun. Despite their sweet appearance, they are not shy to engage in steamy cheap phonesex sexual encounters, including performing oral sex on you. Our blonde girls possess the expertise to stimulate and satisfy you, so why not dial our blondes cheap sex chat lines and connect with them today?
Anal
Our girls are open to exploring all sexual experiences and are particularly fond of anal play. They have a strong desire for your pleasure and are willing to indulge in any tight hole that you desire. If you're interested in exploring anal sex, give our anal cheap phone sex line a call today.
Brunette
Our brunette girls are equally fun-loving and adventurous. They are eagerly craving for some sexual pleasure and are not shy to admit it. If you're looking for some of the most explicit and dirty UK phone sex chats, then do not hesitate to contact our aroused brunette girls on the top credit card phone sex lines available today.
Dominant
If you have engaged in misbehaviour, our mistresses will be aware. Get on a phone sex chat with our fetish and dom girls immediately to experience the punishment of a lifetime. They will restrain you, exert dominance over you using whips and chains, and if you climax without permission, she will subject you to humiliation until you are pleading for more. Connect with one of our fetish and dom girls today on our cheap sex lines, to receive the appropriate punishment for your actions.
Swingers
Our female enthusiasts have an insatiable appetite for fun and excitement, which is true even for those on our swingers phone sex UK lines. They love spending their leisure time indulging in exhilarating swinging parties and massive gangbangs, resulting in some fascinating stories. Tune in to our swingers mobile phone sex line now to hear it all!
Granny
We have experienced and mature women who are eager to satisfy your desires with their expertise. Despite their age, they know how to arouse you and won't let anything hold them back. They are willing to take your load on their breasts as they crave for more. If you'd like to engage in a risque conversation with one of our seasoned ladies, give our granny mobile phone sex lines a call today.
Hardcore
Our hardcore cheap phone sex line features girls who are into sex and they're not shy about it. Give them fast and hard thrusts, let them deepthroat your member, it will only arouse them more! If you're looking to have a steamy cheap sex chat encounter with one of our hardcore girls, simply call our hardcore cheap UK phone sex lines and provide them with the most unforgettable experience of their lives.
Girl Girl
Our lesbian girls are eager to share their steamy experiences with you. They enjoy exploring each other's bodies and want to arouse you with their girl-on-girl stories. Although they have a fondness for women, they also desire to excite you and fantasize about your reaction while hearing their tales. For an authentic and explicit account of girl-on-girl encounters from our most attractive lesbian girls, contact our girl-on-girl creditcardphonesex number without hesitation.
MILF
Our mature ladies are eagerly waiting to answer your calls. Whether you prefer a youthful MILF or a seasoned one, our women are committed to satisfying your desires. They yearn to perform oral sex on you and ride you till you're spent, and then continue the fun. If you want to experience ultimate adult pleasure, call the MILF phone sex number today and let our dirty MILFs take care of everything.
Small Tits
Size doesn't determine everything! Women with petite breasts understand this well, and although they may lack in volume, they make up for it with their alluring nature. Engage in a cheap adult phone chat with these small tits babes today to get turned on and experience an exhilarating encounter.
Housewives
When the spouse is out, the women shall engage in leisure activities, and the gorgeous ladies on our network are experts at enjoying themselves to the fullest! With ample free time throughout the day to indulge in some risqué entertainment, our married women are attractive, sexually aroused, and eager to receive your cheap adult phone chat call any time of day or night.
Voyeur
When it pertains to these girls, being aware of being observed while engaging in their naughty activities is the guaranteed path to gaining their intimate attention! Whether they are under your close scrutiny or performing for a voyeur, the voyeur phone sex babes featured on our voyeuristic platform thoroughly enjoy being gazed upon - and they also relish observing others!
Dogging
Our selection caters to a diverse audience, including those enthusiastic about dogging. The thrill of getting caught or observed is what excites them, and they have indulged in numerous dogging encounters, resulting in some compelling and provocative tales of their adventures during their adult phone chat UK calls.
Fantasy
Many of us have a particular fantasy that excites us more than anything else, yet few of us actually act on it. Regardless of what your fantasy may be, our girls are willing and eager to make it a reality. They possess an open-minded and lustful nature, so don't hesitate to call our credit card phone sex lines today and indulge in your favorite fantasy.
Foot Fetish
Our foot fetish phone sex chat lines offer a range of services that cater to those who admire pretty little toes and dirty soles. Our girls take pleasure in worshipping feet and being worshipped in return. You can indulge in activities such as toe licking, foot wanking, or even stomping sessions by calling our foot fetish cheap phonesex numbers today to satisfy your desires.
Lesbian
Our lesbian live chat phone sex lines cater to a diverse range of women, including those who identify as lesbians, bisexuals, or have had experimental encounters in the past. Regardless of their preferences, our girls find great pleasure in sharing their steamy girl-on-girl experiences and hearing about your own lesbian fantasies. Get ready to indulge in some of the raunchiest tales from our passionate female callers by dialing our lesbian phone sex chat today!
BBW
Contact our BBWs for an assurance of ample bosoms, voluptuous derrieres, and everything big! Our platform offers the most attractive BBW ladies from various parts of the world who are passionate about indulging in their big boobs for your pleasure. You can always count on our service to provide you with a plethora of options for hot and beautiful plus-size women.
Credit Card Phone Sex
Although Babestation still has a massive selection of premium rate sex lines offering erotic sex chat and experiences in a wide range of different niches and genres, many customers nowadays like to pay for their cheap sex chat services directly via their credit card. This gives the user a variety of benefits:
Register for Babecall, Babestation's credit card phone sex payment wallet now, and you can get access to the best value, hottest and horniest cheap phone sex in the UK. No other website gives you the variety and quality of UK phone sex, from dirty amateurs at home to the top UK glamour babes you have seen on your TV!
How To Call Babestation Phone Sex Lines
Babestation provide the best cheap phone sex around, our phone sex chat lines are open 24 hours a day, 7 days a week. We have hundreds of hot sex hungry babes just waiting to get you off on a saucy live phone sex session. To call into Babestation is easy, and there are a variety of different ways to dial into our sex lines:
How To Pay For Cheap Phone Sex
Babestation gives you a variety of ways to access and pay for adult phone chat with the sexiest horny phone operators around. There is no excuse not to call now and get chatting!
Premium Rate Numbers: Simply pick up your phone and dial the number! Nothing can be simpler, no entering payment details, just dialing the number, and you are talking dirty in seconds. You can see the full range of premium phone sex numbers and naughty services right here.
Credit Card Phone Sex: The cheapest way to call the Babestation cheap phone sex lines is to join Babecall, Babestation's billing wallet. Once you sign up, you can buy credits that you can use for your steamy phone sex sessions. Don't forget that you can also use your credits to use all other Babestation services, such as our live sex cams with British Babestation babes and thousands of hot international live cam girls. Also you can see the dirtiest live camera angles from the Babestation studio via our Pervcam service!
Sexting & Premium SMS Sex Chat
Maybe you like to get outrageously graphic sexy messages from hot babes right on your phone via SMS or messaging? You can get that right now by clicking here, we have every type of sexy woman ready and waiting to get into an SMS sexting session with you.
Alternatively, you can join Babecall, Babestation's exclusive payment wallet, by clicking here. With Babecall you can get stuck into our exclusive Sexting service, which allows you to communicate via your phone with sexy cheap adult chat messages, directly to Babestation babes! Not only that, you can also get sexy pics of the babes sent directly from them to you.
History Of Phone Sex
Nowadays, the world of communication has changed enormously. Now that smartphones are the norm, far less people make any calls at all, preferring to use messaging and chat apps like Whatsapp. Cheap sex chat on premium rate numbers first emerged in the USA, with their 1900 numbers, which were charged at a higher rate than normal telephone numbers. The demand for premium services exploded, and soon British Telecom launched 0898 numbers.
As this was largely before the internet, the numbers were mainly advertised in the back pages of porn mags and men's mags, and the demand was incredible! Millions of callers flooded the live phone sex lines, looking to get on a live121chat with a filthy mouthed lady. It is not surprising that it was so popular, as before the internet, calling a phone sex line was the only way to get interactive live sex fun. In the late 1990s, British Telecom overhauled the numbering system in the UK, and the premium rate sex line numbers changed to 09. This was just in time for the next seismic shift in the phone sex industry; the launch of the mighty Babestation in 2022!
As soon as Babestation started broadcasting, users could connect directly via a premium rate number to a sexy TV babe for a dirty phone chat. Babestation quickly became the no1. destination for phone sex, with millions of callers connecting every month. Since then, the adult industry, and Babestation, have changed, with the internet allowing many more interactive services, such as live sex cams, which give you full video chats with babes.
Despite this, phone sex refuses to go away! Many adult phone chat lovers prefer to get on a voice-only sex chat, and the business is still booming, with calls flooding in! The number of providers has declined, but Babestation continues to carry on strongly, being the only phone sex based babeshow style TV show left standing, and millions of phone sex calls coming into our sexy babes each year via our website.
Cheap Phone Sex FAQ
How can I call into Babestation phone sex?
We offer a variety of ways to connect to a hot cheap phone sex chat. You can call directly into our premium rate numbers and voice shortcodes – simply go HERE to find our massive selection of offer. Alternatively, register for Babestation now, and upload some Babecall credits into your account. This will then allow you to pay for your cheap phone sex with credit or debit card, or via open banking. You can then call directly via our landline access number or via this website.
What phone sex services does Babestation offer?
Babestation offers the widest range of live phone sex services. Whether you are into niches like BBW, big boobs phone sex or MILF phone sex, or fetishes like calling a dom babe or a foot fetish specialist, we have you covered. And what nobody else but Babestation offers, is the chance to get on a private, exclusive 121 horny phone sex session with the hottest babes in the UK – the Babestation girls!
What can I talk about on the sex chat call?
The Babestation phone sex babes are hot, open-minded and experienced. They know exactly what a man wants to hear, and you are free to talk about whatever sexy subject comes to mind!
More Cheap Phone Sex From Babestation
Phone Sex Categories