Best British Mature Porn Stars
There are always hot new babes entering the world of porn, so it is easy to find hot sexy firm bodied babes to watch in porn movies and to cam with. At Babestation there is a constant flow of these new babes for you to feast your eyes on.
However, what if you prefer a more experienced woman, who knows exactly she likes and what gets her off, and definitely knows what you would want? Mature MILF babes who have still smoking hot bodies with big boobs and ample asses, and who have stayed around in the porn business for a long time because they are both very good at it, and bloody love it?
Well, you are in luck, as Babestation is the home of British mature porn stars. These hot older babes love to stay at Babestation for a long time as the fans appreciate their sexy mature curves. There are even some babes still working with us who have been there since the very beginning.
So please enjoy our carefully curated selection of the very best British mature porn stars that you can find at Babestation (and anywhere else!) right now!
10. Michelle Thorne
Michelle Thorne, hailing from Bristol, UK and born on August 2nd, 1975, may have a petite stature at a height of 5'3", but she more than makes up for it with her alluring curves. She takes great pleasure in proudly showcasing her body measurements of 32E-22-32 whenever the opportunity arises. Michelle experienced a period of immense popularity during her prime and was even given the moniker "the British Pamela Anderson" by the tabloid press. Fortunately for those who enjoy explicit content from the UK, Michelle ventured into more daring and provocative territory than her American counterpart ever dared to explore. This fact is irrefutably confirmed by Babestation!
Michelle Thorne has achieved considerable fame in the field of British pornography. From the early 2000s onwards, she has made a significant impact on the UK porn and babeshows sector. Following in the footsteps of numerous other attractive women in the country, she commenced her journey by appearing on page 3 of The Sun newspaper and posing for provocative underwear photoshoots for various popular men's magazines of that era. As her career advanced, she shifted to becoming a prominent figure on live television babe shows such as Babestation.
Michelle's career skyrocketed during the mid-2000s within the adult entertainment industry. She became widely recognized in the United Kingdom for her involvement in notable British porn productions, such as those produced by Bluebird Productions and Fiona Cooper. However, Michelle surpassed other UK porn stars by gaining international acclaim. She starred in films created by renowned US and global companies like Brazzers, Twistys, and Private. Additionally, she even caught the eye of the iconic adult brand Playboy! Over time, Michelle mesmerized fans worldwide with her breathtaking appearances in various Playboy videos and photoshoots.
Michelle has had an incredibly impressive career in the adult film industry. Throughout her journey, she has had the opportunity to work alongside well-known personalities such as Lindsay Dawn McKenzie, Linda Leigh, Kerry Louise, and many more. On her profile on the Adult Film Database, Michelle proudly presents a remarkable portfolio of 64 films in which she has not only acted but also taken on the roles of producer and director.
9. Jasmine Jae
Jasmine Jae is a highly sought-after adult film actress from Britain, known for collaborating with numerous renowned porn production companies such as Brazzers, Bangbros, Evil Angel, Reality Kings, Harmony, and others. Her remarkable career includes an impressive 269 movie credits listed on the Adult Film Database. In addition to being nominated for the prestigious Female Foreign Performer of the Year at the 2017 AVN Awards, she has received numerous other accolades and nominations.
In 2008, she initially collaborated with Babestation on Sexstation, which is known for its explicit content. Subsequently, she featured on Babestation X, engaging in intense girl/girl scenes alongside numerous popular Babestation models. Her explicit appearances on BSX not only boosted her reputation but also facilitated her transition into the world of international adult films.
Jasmine has gained a reputation for her involvement in the more extreme and unconventional categories of pornography. She has explored various genres such as anal, double penetration, urination, group facials, female ejaculation, scenes involving black male performers, anal creampies, stretching of the anus, testicle abuse, smoking fetishism, BDSM activities, strap-on play, messy food fetishes, roleplaying scenarios as an escort, and excelling in productions focused on humiliation and domination. This openness to explore the more intense aspects of the adult industry has led to Jasmine Jae becoming widely recognized and amassing a large fan base. Additionally, she has an extensive filmography and has received numerous awards for her work.
8. Linsey Dawn Mckenzie
Linsey Dawn McKenzie, a model and TV personality hailing from Surrey, started her career in the adult industry at the young age of 18. She gained attention by appearing topless in publications such as The Daily Sport and The Sun, as well as posing completely nude under the name "Linsey Dawn McKenzie Nude," wearing only a thong and showcasing her captivating smile. Despite her petite and slender figure, Linsey Dawn McKenzie's naturally large 34GG breasts became an instant fascination for many. To witness her nude appearance, tune in to Babestation TV.
Linsey Dawn McKenzie XXX has gained widespread recognition in the British Porn industry. For years, Linsey Dawn McKenzie Hardcore Porn Videos have been a source of entertainment for Babestation fans. If you watch Linsey Dawn McKenzie Blowjob scenes or Linsey Dawn McKenzie Anal sex scenes, you will get an understanding of the explicit nature of Linsey Dawn McKenzie Porn Videos. Babe channels provide Linsey Dawn McKenzie the opportunity to undress and engage in explicit conversations with callers. However, for a more intimate experience with this mature British porn star, you can explore the babecall app, pervcam, and other live sex cams.
7. Victoria Summers
Victoria Summers, a popular British adult entertainer with blonde hair, has gained fame in the adult industry in the UK and worldwide since she began her career. She was born in Molesley in 1990 and started off in 2008 by posing for nude photoshoots and softer content. However, her fans quickly discovered her more explicit side through Babestation. By 2013, she had become a beloved figure on all of the Babestation channels, which were known for their explicit content. Victoria's captivating performances on Sexstation, Babestation Unleashed, and BSX were highly praised by viewers.
"I was casually watching Sexstation online just before 12:45 till just before 13:00 today and I couldn't believe my eyes: Vicky Summers had at least two squirting orgasms, clearly and spectacularly captured on camera." 
Victoria's remarkable ability for engaging in explicit entertainment was quickly recognized by the adult film industry. Consequently, she starred in numerous hardcore pornographic films, collaborating with both British studios and renowned mega studios like Brazzers and Private, which are based in the United States and Europe. Victoria's exceptional talent earned her several accolades within the industry, including prestigious awards from AVN, the leading news source in the field. The extensive media coverage further enhanced her prominence, resulting in an astounding 1 million Twitter followers as of 2023.
6. Emma Leigh
Emma Leigh, a British porn star who is adored by many fans, has gained popularity with her freckles and large breasts. Born in Essex in 1992, Emma entered the world of adult content and pornography in 2010. Initially known as Tessa Thrills, she changed her stage name to Emma Leigh in 2012. She first appeared on babe channels, particularly on the Red Light Central channel. However, it didn't take long for her to attract the attention of various porn studios. She started by performing explicit boy-girl scenes with UK studios like Killergram and Bluebird before expanding internationally and working with renowned studios such as Brazzers, Twistys, and Harmony. Her talent even earned her nominations for several awards from AVN, a prominent new site in the porn industry.
Emma Leigh decided to retire from the adult film industry in 2016, but her influence during her relatively brief career was significant. However, fans of Emma Leigh need not be disheartened! She continues to make regular live appearances on sex cams and even takes on some solo movie projects. She also embraces her new role as a MILF and remains one of the top-rated British porn stars on the popular porno tube site Pornhub. Additionally, fans can currently access a multitude of scintillating Emma Leigh content in the members area of Babestation VIP.
5. Georgie Lyall
Georgie Lyall, a stunning Scottish woman, embarked on her foray into the realm of British pornography in 2013 and has since explored various avenues. Initially, she gained recognition in the industry by sharing provocative pictures on Twitter, which led to her being noticed by the porn industry. As a result, she began making appearances on several popular babe TV channels, such as Babestation.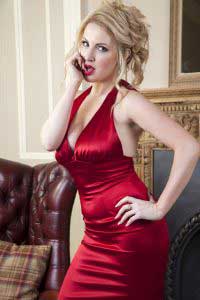 Georgie has gained recognition in the adult film industry for her extensive work in numerous well-known porn studios, including Brazzers, Digital Playgound, Harmony, and others. She has established herself as a prominent figure by starring in a variety of porn parodies, such as those based on Star Wars, Doctor Who, and even Coronation Street. Throughout her career, she has featured in countless adult movies.
Georgie has always been forthcoming about her passion for the adult entertainment industry, as well as the liberation and achievements it has afforded her. Presently, she continues to be a prominent presence at Babestation, where fans can engage in personal live video chats with her on sex cams.
4. Sophie Dee
Sophie Dee is a remarkable example of a British porn star who has achieved great success in her adult content career worldwide since the early 2000s. Born in Wales, she pursued various occupations after leaving school before eventually becoming a lap dancer. This decision ultimately led to her participation and triumph in a competition that resulted in her alluring photos being featured in the renowned British tabloid newspaper, the Daily Sport. This exposure opened up further opportunities for her, including becoming a Page 3 model for The Sun and making numerous memorable appearances on Babestation's live adult television shows - performances that continue to be widely discussed even today.
Sophie's life took a significant turn in 2005 when she made the decision to relocate to the United States in order to launch her career in the adult film industry. Without delay, she began collaborating with renowned porn studios based in Los Angeles. Fast forward over 15 years, Sophie has amassed an impressive portfolio, having appeared in numerous movies spanning various genres within the industry. Currently, she holds the title of being the most highly ranked British pornstar on Pornhub, the world's largest tube site, and is recognized as one of their top 100 global performers.
Having a clear entrepreneurial spirit, Sophie Dee quickly recognized the possibilities presented by social media and platforms such as Onlyfans. Her success in these endeavors was significant, leading to her inclusion in Forbes' prestigious list of the top 50 creators in 2022. By 2023, she was earning more than $200,000 per month through her Onlyfans account, establishing herself as one of the platform's most prominent creators. Additionally, she established Gig Social, a promotional company designed to assist other models in promoting themselves and capitalizing on the emerging digital porn economy.
3. Paige Turnah
Paige Turnah is undoubtedly one of the prominent UK pornstar legends, especially when it concerns veterans. Initially employed as an air hostess at the age of 18, she opted to leave after three years and embark on a glamour industry career. Her voluptuous physique and alluring ass resonated greatly with readers of lads mags and Page 3, resulting in Paige being consistently booked for photoshoots almost every day of the week.
After participating in topless photoshoots for more than a year, Paige made the decision to elevate her career by shooting open leg content for prestigious high-quality magazines. She thoroughly enjoyed being nude in front of the camera, and it was evident that the lens adored her as well. As time went on, Paige found herself increasingly drawn to the glamour of the adult entertainment industry. Consequently, she embarked on shooting her first explicit scene involving both a male and a female partner. This experience captivated her completely, leading Paige to produce numerous XXX-rated videos for renowned producers such as Brazzers, Fake Taxi, and BSX.
Paige Turnah, known for her involvement in the adult industry for over a decade, made the decision to shift her focus and pursue other ventures. She left the porn industry while at the peak of her success and embarked on a new path, training to become a professional hair stylist. Despite leaving the industry, Paige occasionally appears on a nude pervcam show and can still be followed on social media platforms such as Twitter and Instagram. Nowadays, she dedicates most of her time to launching her new career and enjoying social gatherings with her close friends from Babestation TV, namely Preeti and Priya. In addition to her presence on Babestation, Paige Turnah also started on a competitor's platform, S66cams.
2. Leigh Darby
Leigh Darby, a British porn star and MILF from Manchester, was born in 1980. Standing at 5'11, she has a commanding presence and a vibrant personality. Leigh Darby thoroughly enjoys laughter and having a good time. In addition to her vivacious nature, she possesses years of sexual experience and is skilled at enticing both men and women. She firmly believes that life is too short to be held back by inhibitions. With her striking blue eyes and impressive 34G bust, Leigh initially started her career in the adult industry in the UK. However, within a few years, she quickly ascended to the top ranks and began filming XXX scenes for renowned Hollywood studios such as Brazzers and Penthouse. Currently, she is also featured on FTV Girls. Notably, her British chav porn videos have gained significant recognition and are considered valuable collector's items.
Over the years, Leigh has appeared in numerous xxx videos and has worked on various productions worldwide. She has had the opportunity to collaborate with renowned performers such as Danny D and Jordi, including getting wet in the bath with them. From explicit anal scenes to hardcore Leigh Darby anal scenes, Leigh Darby gifs, lesbian threesomes, and interracial action, she has explored a wide range of content. While watching Leigh's explicit big tit porn movies can be satisfying, if you desire a more personal experience, I recommend checking out her Babestation Cams. There, you can enjoy hot solo shows of Leigh engaging in pussy play. Additionally, by joining the VIP members area, you can access her explicit BSX footage. Leigh Darby believes that indulging in sexual fantasies is one of life's true pleasures. She lives by this mantra every day. You can connect with her on social media through Leigh Darby Twitter or catch her on webcam to share your personal fantasies. Whether you have a preference for feet or enjoy hot JOI phone sex, Leigh is ready to engage in play with you.
1. Lynda Leigh
Lynda Leigh, a renowned British Mature Porn actress and former glamour model from the 90s, hails from England and was born in Surrey in 1966. Her celebrity status is attributed to her alluring voice and striking resemblance to Carol Vorderman. Lynda has graced the pages of esteemed magazines such as Swank International, Razzle, Men Only, Fiesta, and Penthouse. In a series of Ben Dover and Fiona Cooper videos, she adopted the alias "Gaynor". Her most infamous film role is in Ben Dover's Banned in Britain.
Lynda Leigh is a well-known and alluring MILF who made her first appearance on Television X, followed by Redlight TV some time ago. Since then, she has achieved success as both a porn star and glamour model. If you are interested, you can find her explicit videos on Pornhub and other similar websites. Lynda possesses desirable features such as blowjob lips and a neatly shaven intimate area, allowing her to cater to various fetishes and fantasies if you contact her for phone sex or join her for an XXX webcam show.
During her appearances on the Babestation night show, Pervcam, or Babestation Cams, Lynda enjoys taking control of her adult phone chat callers, who always return for more. She attracts men of all ages to her live babeshows and particularly enjoys engaging in roleplay. Whether it's a sensual JOI session, smoking fetish encounter, nude massage scenario, or naughty stepmother porn experience, Lynda is open to fulfilling your desires

Did you enjoy this list? Check out our Top Lists below: