We haven't chosen a Babe of the week for a while (we don't have to!) but today we honour Jasmine Jae!
Today we honour Jasmine Jae!
Jasmine Jae is one of the horniest and most beautiful girls you're ever likely to see on your screen, so we'd like to take a moment to fully appreciate this wonderful specimen and tell you a little more about her.  But first, here's a little taste of what she can do in this free video, Jasmine Jae British Porn Star Work Out.
Age: 27
Dress size: 8/10
Height: 5ft 8″
Boobs: 32G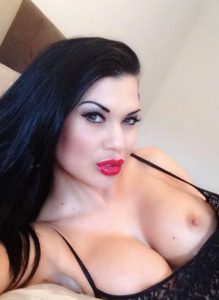 You just don't seem to be able to watch porn these days or buy a dirty mag without seeing Jasmine Jae.  Of course, this is no bad thing, and in fact she recently did a shoot for Paul Raymond publications, so she's likely to be on the cover of one of their mags again real soon, if not already.
Jasmine has been a part of the porn industry for a long time and her list of achievements is very long indeed.  The best way of finding out more about these is to chat to her on the phone when she's on the show however, simply because to list them all here would be a futile task; there's just too much to go at.  She continues to do more and more porn and among her recent achievements was a nomination at the 2014 AVN awards.
Her aspirations
Jasmine aspires to do as much as she can in the adult industry (which doesn't leave much left), and we have no doubt she will succeed.  She likes all the other sort of regular stuff when she's not working (which isn't often).  She's a very sociable creature and enjoys spending time with her family and friends and eating out etc.  When it comes to other areas of aspiration Jasmine wants to do a lot more travelling, in particular: Thailand, Hong Kong and Australia.
She's as filthy as they come…
Jasmine will tell you more about this on the phone of course, but let it be said that this is a woman who likes to do pretty much anything and everything between the sheets, or in the garden, or in the car, or in an alley somewhere, or… well… anywhere.  After talking to her about her sexual preferences, how she likes to get fucked hard and deep with her head back and her arse in the air whilst being spanked, it became pretty clear that this gorgeous young porn starlet really is well suited to her callers on Babestation; there is literally no limit to what you can say to this babe.
They'll be much more about Jasmine on her Babestation profile, which will hopefully be on the website soon.  However, if you want to know more ask Jasmine herself… She'll be on the show tonight at 22.00!
You can of course follow Jasmine on Twitter, where you're likely to be able to chat with her and comment on the numerous amount of pictures she posts up there on a daily basis.  This is one Tweeting hot babe!