A new era of live babeshows programming began on the night of 1st to 2nd of November, 2011. A new phase in the life of Freeview Ch 97 which had already played host to Babestation Blue, Partyland and Glamourchase.  The first night of Masti Chat was launched 3 months after it began as a daytime show which was initially billed as a service for British Asian men and went to air from around 1am, replacing Babestation Blue. While BSBlue was restored to CH97 as planned the following night, Masti nights continued to get allocated longer time slots until it grew to full nights on Freeview becoming established as a part of the weekly schedule.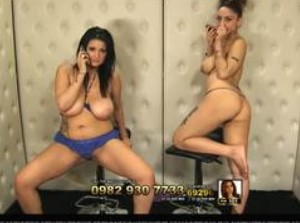 Other trial shows were also added to CH 97 on a night-to-night basis after the success of Masti Nights, babeshows including Dirty Wives, Babestation Apprentice and Sexstation. All competing with Babestation Blue for airtime. There were even some unofficial babeshows that came in for one-off or short-lived specials like Babestation Balloon and a domination special show.
The concept behind the Masti Night show was not just to use Indian/British girls like say, Priya and Preeti whose chat sounded very British but to populate the show with models who could bring a South Asian flavour to the chat as well. This gave rise to some popular Masti regulars like Shanti, Ayesha, Kiran Khan and India Asia. The feel of the show was very authentic and the harder edge that Shanti particularly brought to the show worked extremely well. It didn't just feel like Babestation with a different name but had it's own identity, it's own graphics and was just what Ch 97 needed at that time.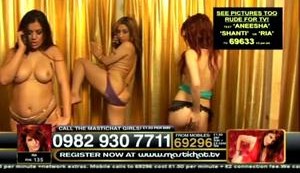 Masti even had an early morning version go out however the Asian link became so tenuous that it was eventually absorbed into the Bikini Babes brand. One of the difficulties for Masti nights and all the other Masti related shows was sourcing the girls in great enough supply to staff the number of broadcasts going out daily and nightly. This could be difficult on the dayshows but on the night shows where audiences expected nudity, finding the girls who were willing to go to those levels was a challenge.
Almost inevitably, then, the Masti identity was eroded as various Babestation phonesex regulars were drafted in to make up the numbers and/or shore up the revenue. The Babestation night shows did have a number of girls who didn't seem out of place on Masti, but once Geri and the gang started appearing, it was silly to be transmitting the show as an Asian chat product.
The demise of Masti Nights, and even the subsequent early morning Masti Chat daytime Freeview show was almost certainly much more down to a shortage of authentic India cam models than a lack of interest. I still think the actual idea of Masti Nights was easily the best among Babestation's Freeview 97 trial projects. It's just a shame it couldn't maintain its cultural identity.
Check out World cams to see South Asian babes like UK Pakistani MILF