The original Partyland live babeshow was innovative and developed a policy of turning literally anything into a set, including behind the scenes features like the kitchen, the fire escape, the lift, the bottom of the stairs, and the yard. On 22nd August 2009, Camilla Jayne went outside the studio, with the brick wall behind her. The wall was painted white, but would be lit with coloured lighting during these rather bizarre adult phone chat sessions.  Some more of the weird and wonderful visions included Tiffany Chambers outside, Reede Fox in the retro lift, Sexstation's, Angel Long on a bed (of all things), and Caty Cole in the kitchen. Tiffany was a 'borrowed' Babestation girl. Reede, Angel and Caty were native Partyland girls…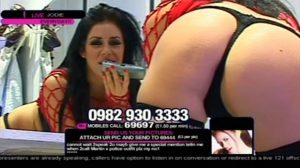 In its early stages between March 2009 and the end of July, Partyland, unlike the other babeshows like Elite TV, (now known as Studio 66 or S66) became known for it's strange, bizarre, unpredictable nature with viewer voicemails played out on air, text games (including the immortal Battleships-inspired, 'Battlebabes'), the odd singing, dancing or hula-hooping task for the girls, and producers (or Gremlins, as Caty called them) chatting on the mic under the name of 'Captain Partyland'.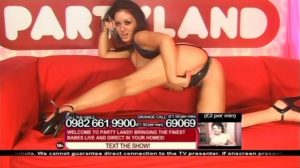 August 2009 was a month of transition for Partyland, which had previously been entirely separate from Babestation and had not employed any of their models to feature on the show. But during August, Partyland and Babestation began to exchange models for a night at a time, and Babestation's Camilla Jayne and Tiffany Chambers did fewer and fewer Babestation shows in the latter half of the month. With Babestation set to fully adopt Partyland, the plan may well have been to raise the show's profile using two of the biggest names on Babestation.
Unfortunately, once it moved into the main Babestation studios from September '09, it quickly became a fairly generic show with little to differentiate it from the typical babe channel of the day.
You can find more on the original Partyland via the blogs, Partyland: More Old Scenes, Partyland: A History and Louise Porter Babestation Partyland Party Girls