From the archives of old salvaged Tumbler blogs, this latest piece by @babe_tv details the glory days of studio 66, (then called Elite TV) one of Babestation's closest babe channels, with whom we've shared a number of unforgettable talent over the years.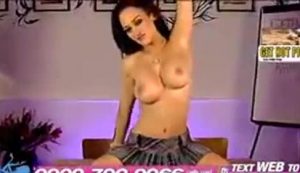 Studio 66 TV is still renowned as a haven of beauty for the babe channels connoisseur, but under its former identity of Elite TV, the organisation brought an unforgettable range of top babes to Freeview Channel 192 in the spring of 2011. The initial weeks were particularly explosive, pulling out all the stops to attract the terrestrial audience away from Babestation, whose power on Freeview had proved extremely difficult for rivals to erode. I want in this post to recall some of the high quality babes Elite screened in the course of its 2011-2012 Freeview run. I do stress though, this is only a selection – not an exhaustive list of the Elite TV greats. Many other top babes made Elite TV what it was, and there's a growing amount of coverage elsewhere on this site if you want to look around.
The opening pic shows Kitty Lea – one of the in-demand personalities who made limited appearances in the spring of 2011. The babe channel seemed very well named, as girls like Kitty, Danica Thrall and Kelly Bell literally did come across as elite babes. Different characters, but all possessed a high degree of X factor, which could create the kind of buzz a new-to-Freeview babeshow desperately needed.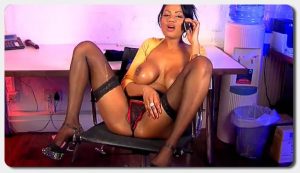 Above: Sophia Lares was one of many former Bang Babes on Elite TV, and in keeping with what seemed to be Elite's ethos, she brought an image of top drawer glamour to terrestrial screens in 2011. Variety was extensive in the opening weeks of Elite's Channel 192 run. The only drawback was that if viewers found a babe they really liked, they might have to wait some time before she'd be back.
(PICS UNFORTUBATELY UNAVAILABLE)
The round-up of images above gives a great insight into Elite TV in its heyday. Going clockwise from top left the images show: 1) Danielle Maye with Sophia Knight, 2) Paige Green, 3) Lilly Roma, who didn't arrive until autumn 2011, but gave the show a real lift just as it was becoming repetitive and losing its buzz, 4) more Kitty, 5), Danica Thrall with Dionne Daniels, 6) Lori Buckby with Ashley Emma, 7) Fernanda Ferrari, and 8) an iconic opening pose from Dionne Daniels.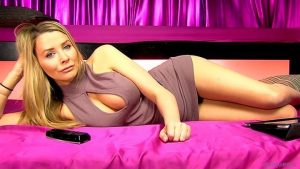 Above: Rachel Louise was already known to the Freeview audience through her appearances on Bang Media's Channel 98 shows. However, on Channel 98 she'd been a daytime girl, working the Early Bird show, so her move to nights had once again given Elite TV a coup on terrestrial television. Once again, a classic Elite glamour girl who could instantly stop a channel-flicker in his tracks. The black graphics seen in this image were only used on Channel 192 for a very brief period between 23rd July and 3rd August 2011. I liked them better than the pink – I thought they suited the babe channels upmarket visuals.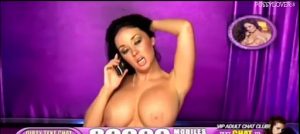 Above: Public tendency towards comparison probably made embarking on a babe channels career as Amanda Rendall's big sister quite a challenge, but Caty Cole has made a great job of it. Caty has run with a very different approach from Amanda, but both girls have mastered their chosen territory, and there's no denying that Caty has been one of Elite and Studio 66 TV's all-time star names. She was also of course a former star of Partyland, and introduced the very first Freeview show, subsequently working a brief spell on the Babestation night shows before finding her home of four and a half years at Elite and Studio 66. In the pic above she's introducing an Elite TV show on Freeview 192.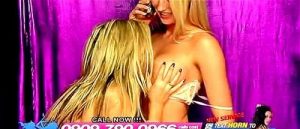 Above: I've concluded with a vision that's just about as Elite as it's possible to get in the babeshow genre. If you didn't find this girlie session featuring Lori Buckby and Danica Thrall exciting, then you probably needed to stop watching babe channels and take up stamp collecting. This was actually Lori's birthday, in May 2011, and there was plenty of great footage to be had from her exploits through the night.
That spring, Danica did a few of these 2 for 1 sections with various Elite girls on Freeview, and despite the fact that she was obviously a very in-demand, high end babe, she showed no sign of reluctance whatsoever when it came to getting stuck in. This predated Danica's Channel 4 and Channel 5 TV appearances so she wasn't a mainstream celebrity at the time. She was, however, a huge babe channel celebrity and had for long been attracting extraordinary levels of interest within the genre. She exuded magnetism and charm on these Elite shows – definitely someone you remembered seeing for the first time and being knocked out by.