@babe_tv the blogger and Babeshow super fan first posted the following piece on the 29th of October 2014 on their now defunct Tumblr account.  We have dug up the content and humbly present it to you the Babeshow faithful who enjoy an outside perspective at the history of our favourite daytime babeshows.  Please enjoy: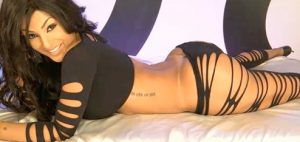 They know exactly what customers want. But they can't provide it. Not on UK television during the daytime, anyway. Daytime babeshows have been a constant frustration not only for some callers, but also for the programme makers, whose lives would be so much easier, and so much more profitable, if they could just, like… do sex.
Daytime babeshows are precluded from 'doing sex' not just visually on screen, but also as an audio service on the telephone, and that makes the product very difficult to define, let alone to market. If the babe channels are not selling sexual pleasure, as the night shows do, what are they selling? In a sustainable sense, the answer can only really be attention. Technically, day shows are courting guys who think that the incredibly hot babe on screen just might develop a special interest in them.
But the problem is that guys who see a series of premium rate chat calls as a route to a real relationship are in very short supply. Most guys see the babeshows for what they are: professional models, doing a job, for the money. And most guys, indeed, don't even want a real relationship with a TV babe. Their lives are complicated enough as it is, and they just want instant, inexepensive fun. If the off switch wasn't there, they'd probably be close to apoplectic. If you've ever seen those online auctions that allow fans to bid for real, categorically non-sexual dates with TV babes and glamour girls, you'll know that the uptake is minimal in the extreme. Unless they think they're going to get sex, the blokes consider it a waste of money and don't want to know.
So how does a daytime babeshow deal with this general apathy towards platonic chat? Well, there are different approaches. Some girls are really good at maxing out on the 'attention' market and can keep specific and prolific callers loyal. If a girl has been in the business a long time, has a high profile, and has cultivated a substantial regular customer-base, she can probably just get on and do the job as it stands. But most shows have, at some stage, tried to boost trade with a policy of ambiguity, where the advertising hints or suggests that the caller might get phone sex. If the girls can talk about the football transfer market whilst appearing on screen to be in the throes of multiple orgasm and/or accidentally flashing their tits, a lot more guys are probably going to dial that number.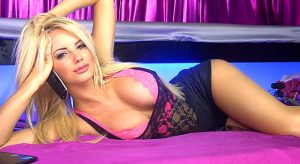 Today, the day shows know the risks associated with screening night show visuals, and if they value their future it's not going to happen. But four or five years ago, before Ofcom dealt the ultimate blow to Bang Media, even on Freeview a daytime babeshow could look virtually indistiguishable from a night show. Above, Gemma Hiles is seen in action on the Early Bird show. Early Bird is, as you've probably guessed by now, the daytime babeshow alluded to in the post title. Gemma certainly looks like she's engaged in phone sex, but some of these babes were seasoned experts at humping the daylights out of the floor with face contorted in ecstasy, whilst actually discussing the price of fish.
Bang Media's daytime show Early Bird ran daily on Freeview 98 from 05:30 to 9am, between October 2009 and November 2010. It was well known for its high-impact visuals – unfortunately, by the regulator Ofcom as well as by the viewers. It was eventually taken off air by Ofcom, along with its night time companion show Bang Babes, but in the one year plus it was on Freeview, Early Bird made an indelible impression on the audience.
ACTUAL PHONE SEX?
This was where the real problems started, and it's the same for all daytime babeshows. No one could change the fact that actual phone sex was not allowed on Early Bird, and calls were required to be recorded for monitoring purposes. Combine that with the fact that many, many callers expected a lot more than a chat about the weather, and the job must have been a nightmare for the girls. Some calls were little more than an endless stream of sexual requests, each met with: "I can't do that", or similar. Even after half an hour the repetition could really start to grate on you, so how the women tolerated it endlessly, day after day, I don't really know. There was always the option for the girls to be a lot clearer in their demeanor, and indicate to all viewers that there was no prospect of sex chat. But I don't think anyone was under any illusions about the impact that would have on their call stats.
There will always be stories about certain girls who actually did engage in daytime sex chat, and I'm not about to reinforce or refute any such stories, but the official line was that they weren't allowed to do it, and if you pulled ten sample calls at random, I'm sure you'd hear pretty strong evidence of that. I suspect that one or more of your samples would not even get beyond: "What's your date of birth?…"
BREASTS DURING DAYTIME?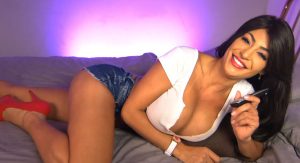 Prior to the 'Teleshopping revolution' in September 2010, there were no proper guidelines on what a daytime babeshow should or shouldn't screen, because officially, the regulator had not acknowledged the legitimacy of unencrypted babe channels. Everyone knew the channels were required to be inoffensive, but the interpretation of what that meant would vary. How much of a breast could you show before it was too much? It was debatable. Different girls had different takes on the matter, and so, seemingly, did different producers. The two pics above show Fernanda Ferrari – one of the Freeview show's most regular and celebrated names. The situation in the top pic would probably see one or two P45s handed out in today's climate, but on Early Bird back in 2010, clearly visible breasts with nipple covers didn't seem to cause some producers any great concern. I don't think the public were remotely bothered either, as most of the complaints about this sort of thing appeared to be targeted sabotage.
The second Fernanda pic shows one of the 'wardrobe malfunctions' for which Early Bird was famous. In a still pic you don't sense how brief the 'slip' was. In less than a second Fernanda was covered up, and that was routinely the case with 'nip slips' on Early Bird.

However, the frequency with which 'wardrobe malfunctions' occurred on Early Bird (and other old babeshows supposedly under a topless ban) was very high. Former Miss Great Britain Emma Spellar was quite heavily prone, as you can see above. Again, in stills form it looks very deliberate, but if you watch the footage it doesn't actually appear obviously intentional. These were just momentary glimpses – literally a split second while she adjusted her tops, and in the pictures she's pulling the slipping tops back into place rather than pulling them down. There's another sequence where one nipple pops out, and then she hurriedly leans round to put it away, only for the entire other boob to fall out. It didn't make for great captures because of the motion blur, but it's great comedy, and even she laughs.
Emma's struggling tops evidently raised concerns with at least one producer, who on 19th February 2010 took her feed off screen and requested that she put on (in her words) "tit tape". She said it was the first time she'd been asked to wear it in three years of working there.
'PERVCAM'
Some producers, however, seemingly wanted the viewers to see more rather than less. You can see from the direction in which the girls are facing in the above images, that these 'open leg to cam' views don't come from the main cameras. They instead come from alternate camera feeds, which were sparingly mixed in with the standard shots for variety. These almost 'pervcam' style shots often gave daytime babeshow viewers a bit extra and offered the show a tenuous excuse in the event of complaints. It had already been claimed in at least one previous instance that a breach of night show regulations was due to a feed error, with the 'offending' camera's footage apparently having been designated as web only, but accidentally fed to TV. In the top pic, the babe is Sammie Pennington, and beneath Sammie is Emma Spellar, with Alexa Heart in the background.
Laura Bates was another stick of visual dynamite for Early Bird, and she became a very regular sight through the summer of 2010 and into the autumn. You'd quickly and easily forget with Laura that you were watching a day show, but I'm sure that was the general idea. It increased the power of Early Bird that the models were very, very good looking girls who oozed sex appeal. And the fact that you couldn't typically just go on Google and instantly download a pile of explicit pictures of them gave them some intrigue and commercial leverage. The dynamics of the show were about as sound as you'd find on a daytime babe channel – if you set aside the regulator, obviously.

And yet another blazing explosion of provocative visuals, this time from Kimberley Gordon, who once again fitted the familiar picture of very high glamour plus persuasive sales technique.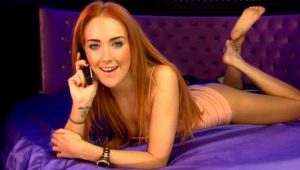 Early Bird regular Lucy Anne played it much straighter and tended not to go in for humping, flashing or see-through outfits. She was a lot more subtle and in keeping with the kind of output seen on some daytime shows today. But subtlety didn't mean a reduction in watchability. Lucy Anne was incredibly sexy on Early Bird, comfortably illustrating that you don't have to go to war with Ofcom to market a chat line.
It's a testament to the impact of Early Bird that names such as Dannii Harwood, Tiffany Tate-Taylor and other ragingly powerful regular performers have not even been mentioned as yet. Imagine a day show that kicks so much ass that even Dannii Harwood, pelvic-thrusting the air in a see-through top, does not necessarily make the headlines! Well, Early Bird was that day show. It's been said many times that most of the night shows today are nowhere near as watchable as these old day shows, and that's one notion I certainly am prepared to reinforce. So many people – including industry insiders it seems – make the mistake of thinking 'sexier' has to mean 'more pornographic'. But the memory of Early Bird absolutely explodes that myth. With visual marketing, sometimes, what you can't see, has a hell of a lot more power than what you can. And on that bombshell, here's Evelyn to wrap up the post…