The following blog from babeshow historian and ex-blogger, @Babe_TV is all about TVX, Cream Live and Honey Live.  Some lesser known channels but look out for some familiar faces mentioned inside.
The next non-cellcast babe channels to hit Freeview after Bang Babes were not the ones everyone was expecting. Bluebird had voiced an intention to transmit their live babeshows on Freeview even before they went live on Sky, and Elite TV looked another likely candidate to go terrestrial hot on the heels of Bang Babes. But most interestingly, the next babe channel contender on Freeview after Cellcast and Bang Media, was Television X.
Why most interestingly? Well, back in March 2010, Television X had run a highly negative Freeview marketing campaign against the babeshows in order to sell their encrypted porn channel. Specifically directed at Babestation-style shows, TVX's ad had compared the babe channels' call rate of £1.50 per minute for topless chat, with TVX's own subscription charge of 33p per day to watch actual sex. The ad criticised paying to be on hold and the lack of "pussy", as well as throwing in a comedy sketch giving their take on the babeshows. For example…
Caller: "You look lovely. Can you show me your…"
Babe: (interrupting, in curt, deadpan voice) "No."
It was quite funny (not unusually for TVX ads), but remarkably hypocritical, since TVX had their own babeshows on Sky, and just over seven months later, they would take them to the very platform they were using to slate them: Freeview. Above, you can see some stills from the Television X 'anti-babeshow' ad, as screened on 28th March 2010.
Two TVX channels went onto the terrestrial EPG, starting with Cream Live on Channel 191 (Red Hot), from 2nd to 3rd November 2010. The basic rate per minute was 45p, with a queue jump option at £1.50 per minute. Honey Nights kicked off on Channel 192 (Filth) two nights later, with a basic rate of 75p, and again, the £1.50 queue jump option.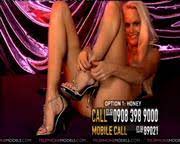 Both channels' bandwidth was fairly low. Not as low as with the 2008-2009 series of Party Girls, but there was noticeable picture breakup during fast movement. Setting that aside though, the aesthetics were fine, and TVX had a very interesting collection of babes – some of whom were well known to the Freeview audience, and some of whom were new faces. Among the notables were Bex from Big Brother, Levi, Linsey Dawn McKenzie, Honey Scott, Siobhan Hughes, Jem Stone, Tammy Oldham, Tilly Hardy, Bonnie Lee, Hannah Prentice, Ani James, Tia Jones, Cali Garcia, Sarah Louise, Jade Victoria, Jasmine Jones, Morgan James, Flo, French Chloe, Charmaine Sinclair, Daisy Dash, Rachael Henriques, Leigh Smith, and Lisa O'Connor. Quite a group – and probably bigger than most people remember. During their Freeview run, TVX also briefly brought on board Emily Dean, and there was a public saga around their signing of Amanda Rendall, who didn't, in the end, actually work a single shift.
(PICS UNFORTUNATELY UNAVAIALABLE)
In the above compilation, there's a general look at the TVX Freeview shows. Top left is of course daytime babe Siobhan Hughes, whose excellent night shows on TVX were among the highlights of the series. Top right, Jasmine Jones (often billed as Jazzalar) was known to Freeview viewers courtesy of her Cellcast night shows the previous year. Bottom left, Morgan James is simply billed on screen here as "The Big M". And bottom right, Hannah Prentice was another very enticing proposition for Cream Live and Honey Nights.
It became clear, however, that the TVX channels had problems. It's important to stress that TVX had a wide range of models, the majority of whom definitely did take their work seriously and put a lot of effort into providing excellent value. I hope the images in this post will convey the essence of the TVX Freeview babeshows at their best. But over the course of the channels' run on Freeview there were far too many distracted models, looks of disinterest or boredom, and instances of eyes roaming randomly round the studio with attention paid to seemingly everything but the camera. Particularly in the latter stages of the run, visually at least, it could look at times like the viewers didn't exist.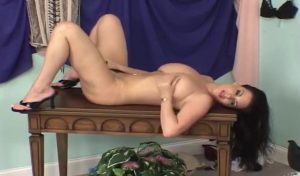 In December 2010, both Cream Live and Honey Nights raised their basic call rates to £1.50 per minute (until 4th January 2011 when they increased to £1.53 for VAT reasons). From that point, the perception of life imitating art really began to grow. The Freeview babeshow spoof TVX had screened the previous spring was now increasingly accurately depicting a reality. Not only had the ad revealed TVX's apparent contempt for babeshows – it now jarred noticeably with the fact that they were quite happy to make money on Freeview doing exactly what they'd sneered at on the same platform earlier the same year. By December 2010, TVX couldn't even claim an exception from their own satire on the grounds of reduced cost. They were charging exactly the same basic rate per minute as Babestation.
The Freeview channels also screened Dirty Talk for limited duration, with a 35p per minute basic call rate.  It was a real shame the TVX Freeview channels didn't have a level of focus and drive to rival Babestation, because a lot of their models clearly belonged on high profile babeshows, and the prospect of them losing their Freeview presence was a big disappointment for a large number of fans.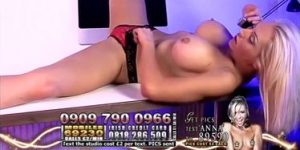 But on 23rd February 2011 – less than four months after going to air, Cream Live was dropped from Freeview Channel 191 and replaced, appropriately enough, with an encrypted Television X porn transmission. Honey Nights soldiered on for almost two more months, but was eventually wrapped up by Bex Shiner and Jade Victoria in the early hours of 18th April 2011, vacating Channel 192, which would be taken up a couple of nights later by Elite TV.
(PICS UNFORTUNATELY UNAVAILABLE)
The compilation above shows some of the scenes from the first month of Honey Nights – with the 75p per minute call rate very prominent on screen. Top left is Essex bombshell Sammie Dee, who also appears in the opening pic at the top of the post. The Freeview audience first got to know Sammie as a Partyland girl in spring 2009. Top right is of course Levi, who will need no introduction for any longtime babeshow fan. Bottom left once again shows Hannah Prentice. And bottom right shows Sarah Louise. All of them spirited, good-value performers on the TVX channels.
Cream Live and Honey Nights did have some serious high points and were usually broadcast in good humour, as is pretty obvious from the pics in this post. Unfortunately, they did also have some pretty grim low points, and for a company which had strongly implied that babeshows needed to be much better value, there could really be no excuse for that. But Cream Live and Honey Nights created some great memories, and certainly, looking back through the footage to compile this post has raised more than the odd smile…