Babe channel
fans might remember The Chat on Freeview Channel 46.  For all those who don't, check out this post, first published on 7th May 2014 by @babe_tv on their now defunct Tumblr account.  But we've resurrected it here for all you fans of
Babestation history
.  Enjoy,
There's some contradiction over whether or not The Chat should be covered in this blog. It was certainly a Freeview show (September 2008 to March 2009), so it qualifies as a terrestrial broadcast. But was it a babeshow? Well, according to the programme itself, it was a media-based talk/chat show. The Chat was, nevertheless, staffed primarily with babeshow or ex-babeshow girls, and most of the interest looked to be coming from the 'attention, flirt and surreptitious fetish' market – the same market that had been driving babeshows like Party People and Lads' Lounge. The Chat may not have looked like a babeshow, or seen itself as such, but mechanically and demographically, that's effectively what it was.
When Cellcast's groundbreaking interactive Freeview Channel 46 went live in early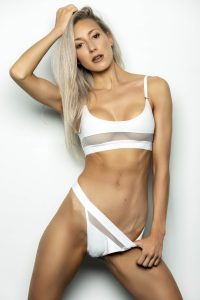 September 2008, its inaugural primary daytime show was called Life Coach. Running from 10am to 5pm, Life Coach was an editorial production acting as a front end for offscreen interactive services. To all intents and purposes, it was a 'psychic' show without the claims of supernatural power, and it looked and sounded like a professional production – very little different from the kind of thing you'd expect on a new TV channel.
But Life Coach didn't last a month on Freeview, and at the end of September '08, an altogether more eye-opening daytime show replaced it. Shockingly low-budget, frequently late to air, and much of the time silent to viewers as the single presenter chatted to callers on her phone, The Chat was car crash TV of the highest order, and exactly the kind of spectacle that would halt a channel-flicker. Okay, so those stumbling upon the show were probably saying "WTF???!!!" rather than "Wow!", but at least they were stopping and looking.
After replacing Life Coach, The Chat actually ran on Freeview from 10am to 8pm (with breaks as and when), mainly employing just one presenter. The camera was static, picture quality was poor, and there appeared to be just one offscreen moderator/producer – most commonly "Mr G" – who was heavily involved in the interactivity and will definitely be remembered as part of the show, despite not being seen on screen. Calls to the show (interactive and eavesdrop) were priced at £1.50 per minute. The set was, I believe, located on the bottom floor of Cellcast/Babestation's West End studios, next to the set for Channel 46's concurrent and seminal night show, Party Girls. Even when The Chat ran through the whole evening, there was always at least a half hour gap between its finish time and the start of the night shows. One of the girls on The Chat would take her dog into work, but was, she said, subsequently banned from doing so due to complaints from the night show babes about dog hair on their bed.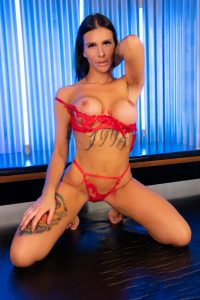 Running with just one presenter was a problem for The Chat, because many new viewers would not have a clue how the programme worked, and if the girl was taking calls, there was no one to communicate with or sell to potential customers. Some viewers may even have assumed the sound feed was broken. I don't have any recordings of the very earliest Chat episodes on Freeview, but from what I can remember they were totally silent when the mic was off, and had no music loop. There was a music loop for most of the series, but not from Day One I don't think.
At the start of the last week in October 2008 there was a major restructuring on Channel 46. At that point, Cellcast's psychic shows took up the main daytime slots, and The Chat had its hours restricted to evenings only. However, as part of the restructure, The Chat addressed its communication problem, bringing in a second presenter, and typically keeping at least one of the two girls free to talk to viewers and read out texts whilst the other was on the phone.
On 16th December '08, the babeshow schedules were again reconstituted, and The Chat was given a slot between 10am and 3pm. The following month, another change cut The Chat's hours yet again, leaving the show running from 10am to 2pm, with an extra half hour isolated into what had previously been a dating ads break between 5pm and 5:30. This schedule continued for the rest of the show's Freeview run, except for 18th February 2009, when for some reason The Chat got a long evening portion. It should, however, be noted that the 10am starts were most unreliable and The Chat would rarely go to air at ten on the dot. A few minutes late was normal; half an hour late would not raise an eyebrow.
PRESENTERS
The presenters featured in the original promo pics used for The Chat on Freeview were Bambi, Layla, Nikki Wills, Charlie McDonagh, Danielle Mannaken, TJ (Tommie Jo), Paige Tyler and Lydia Bailey. But not all of the girls were regulars on the show – mainly because their diaries were full elsewhere. Paige Tyler (pictured above on Babestation Daytime – the more upmarket if more blatantly flirty type of show she was best known for) would have been in serious demand for The Chat, and did appear on it in 2008. But from a reply given by head presenter Bambi to a texter who wanted to see Paige more often, Paige was prioritising other shows and projects, and offered The Chat little or no availability. Paige didn't appear on the Chat's Freeview show at all in 2009. Lydia also looked to be unavailable for much of the run, and I don't remember Tommie Jo making a single appearance. Former Lads' Lounge regular Donatella and a model/presenter called Charlotte Jarvis appeared throughout the Freeview series of The Chat, but were not in the promo pics. Other presenters were added to the rota as time went on – some on a very short-term basis and with widely varying levels of suitability. Jo Gervin and EJ (Emma Jane) came in relatively late, but stayed, and were both very good additions.
COMMERCIAL SUCCESS
Uptake on The Chat looked to be poor, particularly as regards eavesdropping. The Chat did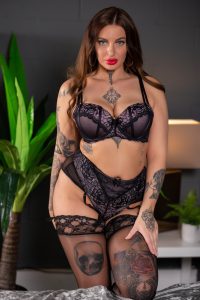 try to tap into the eavesdrop market, broadcasting teaser sections of the presenters' side of a call, then cutting the sound at 'cliffhanger' moments in a bid to entice in listeners. But it was never salacious or dramatic enough to warrant a £1.50 per minute spend (not from someone who'd actually be paying the phone bill, anyway), and even interactive calls seemed difficult to attract at times.
The Chat also ran other services – the main ones being texting and picture messaging, both charged at £1.50 per go. Other babeshows charged £3 as standard for pic messaging. A viewer could get his or her face posted on TV via The Chat, by sending in a pic message. There was also a 'dating' service, again priced at £1.50 per message. The text services seemed moderately well used and didn't appear to have any glaring commercial flaws.
3G
From 20th February 2009, now well inside the final month of the show's Freeview reign, The Chat introduced a 3G service, allowing viewers to make visual contact via two-way cam chat. Priced at £2 per minute, the service had its own 3G desk, which took one girl off the main Chat set when in use. The new desk, incidentally, appeared to be the one used by Kelly Carter in an office roleplay on Party Girls a couple of nights before The Chat's 3G facility became available. The 3G service was, however, not well patronised, and promotions for it were quickly dropped.
FATE
The Chat was finally pulled from Freeview on 8th March 2009 – over a week before its host channel was scheduled to close down. You did get the feeling that there'd never really been a gameplan with The Chat, and that a huge opportunity for the show (including prime time transmission on a relatively low-numbered Freeview selection) was simply gazed at in wonder. The programme did have some good chat hosts – former mainstream actress Charlie McDonagh was excellent, and I thought she and Jo Gervin encapsulated what The Chat should have been looking for in all its presenters. But in the end, rather than properly define itself and its topics, and use its Freeview profile to stimulate interesting or controversial debate, The Chat most typically sat back and allowed itself to be led into an embarrassing corner by a number of interacting perverts and morons whose input should never have gone public.
It was a shame The Chat couldn't make more of itself, because it was something a bit different, it had good integrity, and it would have been nice to see a babeshow move away from flirt and sex to prove that women can engage men in many other ways. But the show was always very badly monetised, the suitability and enthusiasm of the presenters was too inconsistent, and in terms of realising an opportunity, The Chat just didn't know it was born. The outcome, whilst sad, was inevitable.