We have written previously about
Babestion international shows
, but the longest running show is Babestation 24 the German version Of Babestation which is now 11 years old.
Formed out of a partnership between Babestation  and advertising  agency Zulu Media AG, after a chance meeting at the Berlin venus show. Babestation24 launched in 2011 from 10p.m. to 6a.m. The time slot on German cable television was gradually reduced over the years from 00:00 to 06:00 to 02:05 to 05:00. As of January 31, 2021. Babestation24 was the first competition to the main German babe channel Eurotic TV.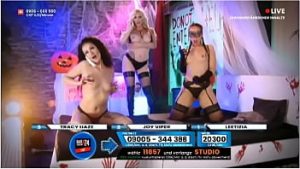 As in the UK, Babestation24 has had it's share of celebrities call in. In May 2015, ex –
DSDS
 winner 
Mark Medlock
 called during the live show and caused a sensation in the 
tabloids
 across Germany with a 12-minute phone freak out . He insulted the cast of the show extensively and later
admitted in an interview that he did so for 
promotional purposes.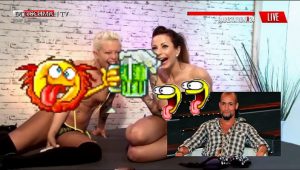 In December 2011
UK porn star
and Babeshow legend Ree Petra made a guest appearance on Babestation24 broadcasting live from the studios in Germany.  And streaming live over
rampant tv
and
sexstation
.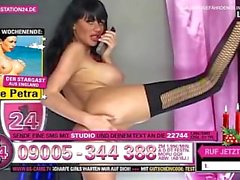 The cast also included at times 
Stella Styles
 , Sandra Sturm, Sindy Schmidt, Tiffany Angel, Meli Deluxe, Sydney Pearl, Heisse Lola and 
Vivian Schmitt
 . 
Nadja abd el Farrag
 and
Djamila Rowe
 appeared as guest stars. Lejla-X is currently one of the longest-serving. Tyra Kadney, Paula Rowe, Samy Fox and Nicole Charming,
Stella Styles – After working as a freelance dancer in dance and night clubs across Germany for years, two producers approached her at the end of 2009 to ask whether she could imagine making erotic films . Then she got into the porn business in 2010.
Styles spent a week in Los Angeles with an RTL II film crew in 2011, visiting the offices and studios of Hustler and Penthouse. There was a joint video shoot with the US Penthouse Pet of the Year Nikki Benz . In Germany, the report was broadcast in August 2011 in the RTL II series Exklusiv – The Reportage .
In the 11/2011 issue of the German Penthouse magazine, Styles was featured on the cover as Pet of the Month.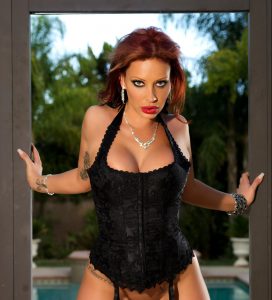 Styles is the frontwoman of the dance-pop project Stella & The Real Blondes and released the Bananarama cover Venus in late 2011 through the Starwood Media label.
As of 2010, Styles directed twelve porn films for Inflagranti and Videorama. In 2011 she received a Venus Award in the Best TV Presentation by Erotic Star category .
Vivian Schmitt
– Grew up in Berlin ; she started her career in the porn industry as Anna B at 
Magmafilm
 . In 2003 she switched to the production company Videorama and was exclusively under contract with them until 2013. When the company went bust.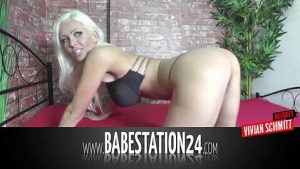 Djamila Rowe:German make-up artist who became known through a fictitious affair with the Swiss Ambassador Thomas Borer in 2002 and was subsequently seen more often on television.
In the Swiss newspaper 
SonntagsBlick
 , Rowe claimed for a fee of 10,000 euros to have had an affair with Borer, which is said to have taken place on the night of March 21st.  Rowe later retracted this statement.  The fictional affair did not lead to Borer's transfer to Bern . However, Borer resigned from his employment.  Borer and Rowe stated in July 2002 that they knew each other but had not had an affair.  After an out-of-court settlement, Ringier -Verlag paid Borer over one million Swiss francs in damages Despite a perjury , Rowe was not prosecuted for the false testimony.
Rowe has performed as a model and adult model.  She took part in the
ProSieben 
reality televisi
on show 
Die Alm
in 2004 and placed eighth. In 2006 she had a guest appearance on the RTL-II television show 
Big Brother . 
In 2007 she was the protagonist in an episode of the ProSieben show 
We are Family! This is how Germany lives
 . In 2014 she was private for the format 
Celebrities – The Sweet Life of the Stars
 from 
Sat.1 Emotions
to accompany. In 2017 she was a participant in 
Adam sucht Eva – Celebrities in Paradise
 . In 2020, she was featured in a TV commercial by 
Meßmer
.  In January 2021, Rowe was a contestant on 
I'm a Celebrity . 
She took second place with 49.86 percent of the audience votes.  She first appeared on Babestation 24 in 2015.