From the mind of @babe_tv, here's babe channel history lesson about the first toplessness on Freeview.  Enjoy…
I dare say that more than a few babe channel hoppers or rampant tv streamers have dropped onto one of the Freeview adult channels at some point over the past few years and thought: "Jesus! When did this happen?… All-night topless women on non-subscription television? Who'd have thought it?"… Well, it 'happened' in autumn 2008, on a Babestation-run babeshow called Party Girls. But toplessness was far from an instant and direct move. It was a steady progression lasting for more than two months between early October and mid December. Here's how Babestation introduced all-night nipples to terrestrial television…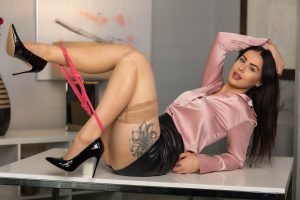 TIMELINE
It was about a month after the beginning of the series that Party Girls started a slow and at times almost comical transition from a strict 'bikini' minimum dress code, to fully topless output – something that had never previously been done on a Freeview babeshow at any time in the two and a half years Cellcast had been airing them. Toplessness is taken for granted on the Freeview night shows today, but in September 2008 when the earliest sexstation and Party Girls episodes were transmitting on that low-budget, low-bandwidth channel with frequent picture break-up, it didn't look like Babestation were ever going to risk it on Freeview.
But they did risk it. They just managed the risk by pacing a very gradual and subtle boundary-pushing campaign, which would eventually culminate in an official watershed. The progression took the form of steadily increasing amounts of bare breast (often incorporating the use of tape to cover nipples), coupled with an ever-expanding catalogue of 'wardrobe malfunctions' and 'mistakes'.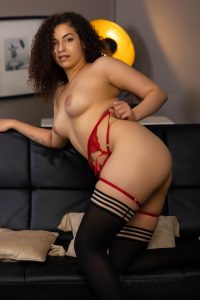 Particularly at that time in 2008, when televised phone sex lines still had no legitimacy on free to air TV babe channels, introducing Party Girls to the wider Freeview platform as an exact replica of the Sky show Babestation would have been asking for trouble. I've talked elsewhere on this site about the huge limitations on verbal advertising, which completely prevented Party Girls from mentioning adult phone chat – even though that was its main service.
But the risk of 'offending' masses of BBC licence holders with visual picture and video content would also have been an immense concern, especially with Ofcom more touchy about Freeview due to its lack of trending channel categorisations and default preference controls, as compared with Sky. Cellcast's non-UK licence probably helped along Babestation's quest to establish topless content on Freeview, but a Dutch licence is no get-out-of-jail card if broadcasts cause widespread offence.
So whilst even the early Party Girls episodes were a lot more sexual than the only existing Freeview babeshow (Party People), the models kept their tops on, and to begin with, that didn't appear in any way negotiable. But slowly, hints began to emerge that the programme may have other intentions.
The first big step towards the Party Girls topless babe channels revolution was the use of nipple tape on their big boobs. I'm not aware of the tape being used on Party Girls before 9th October 2008 – a calendar month and a day after the series began – although at the time I wasn't setting a recorder to capture footage, so I could easily have missed a previous instance.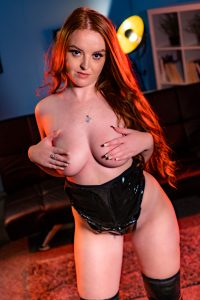 In early autumn, tape was not used early in the night so you'd have to either record or stay up very late to see it. And initially, the practice was not intensively adopted. Many babes didn't use tape anyway, and would employ other methods to maintain viewers' attention and push the boundaries – like loose-fitting bras prone to slippage, bath-towel-with-nothing-underneath teases, and most daringly, later in the autumn, totally topless with body-painted nipples. The kind of 'accidental nip-slip' which became more and more common as the autumn progressed.
The use of tape seemed to be stepped up in the November, to a point where any model happy to wear it, pretty much by default, did. And by early December it was fairly obvious that the short era of transition was coming to an end. 'Nip-slips' had developed from fleeting glimpses which at least looked genuinely accidental, to quite prolonged exposures and far-fetched 'mistakes' which really couldn't have been anything but deliberate. By the first half of December, Amanda Rendall was even peeling off her nipple tape close up to camera and then sticking it back on again, and Dani O'Neal was pulling down her tops just as blatantly, so I think most viewers were sensing that the metaphorical red tape of very physical nip tape was about to go out of the window.
Officially, the first ever fully topless section on a Freeview babeshow arrived in the early hours of 16th December 2008, as Morgan (Preece) and Charlie C finally brought all ambiguity to a close. But unofficially, by this time, the sight of nipples was so familiar to regular Party Girls viewers that the only real development was the length of time for which they were exposed, and that the girls no longer had to try and make it look like an accident or a forgetful mistake.
After the final watershed, things went crazy, with novelty after novelty throughout the Christmas and New Year holiday as the various babes made their first fully topless appearances on Freeview.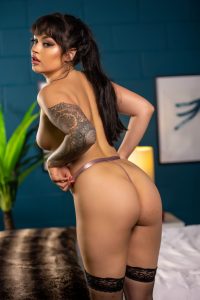 From that moment forward, there have officially been nipples on Freeview babeshows every single night except for 17th to 18th March 2009, and the following night – 18th to 19th. Those were the two nights in between the end of the Party Girls series and the start of Partyland. And for the two nights in question, it was just like old times, with the 3am Party People broadcast serving as the only babeshow on terrestrial screens. In fact, on 18th March, Rebecca Jade even introduced Party People as "The only babeshow on Freeview". Party People on Channel 37 still strictly adhered to 'daytime' visuals at that time, so there were no naked boobs for those two nights.
Whilst the Christmas of 2008 was an exciting time, with hours of bare boobs every night on Freeview for the first time ever, the precursor to that watershed – the short era of creative boundary-pushing – was a tease-orientated spectacular. When I saw Preeti Young on a recent Babestation Xtra show wearing Party Girls style black tape, it brought back all those memories. Party Girls was before Preeti's time, and its introduction predated her arrival on the babe channels by nearly two years. But she'd have made a great Party Girl. The date was 25th April 2014 – six years after Ofcom declared that all free to air TV sex chat line channels would be taken off air.