Babestation mother and daughter duo
Levi
and
McKenzie Bleu
, recently opened up to the Daily Star about a rather famous caller the pair of them share. The
live babeshow
nude models
revealed that a famous boxer has been flirting with the mother and daughter babeshow duo for the past six months and that he has spent thousands of pounds on them by calling them for
MILF phone sex
and accessing their
pervcam
, where they often appear topless or even as fully
nude cams
performers. Levi, who has been with the
babe channel
since 2002, revealed that a famous British boxer has been showing interest in both her and her daughter, McKenzie Bleu, since last year. McKenzie Bleu began working at Babestation during the pandemic after losing her office job.
Levi, whose real name is Jemma, described the boxer as kind and considerate, and someone who appreciates their curves and good looks.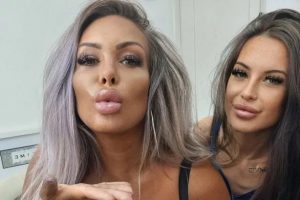 Speaking with Daily Star, Adult Work performer, Levi said:
"I have the biggest celebrity fan base at Babestation. It is mainly footballers and rappers but me and my daughter both talk to a pretty big boxer too. He is a new caller and has been speaking to me for about six months. I'm not giving you any clues on who it is, but he's big. He's worth millions but he's not flash with his money and I like that."
She added:
"He doesn't try to show off and he is not materialistic. That's what I like about him. I can't stand people who lead with their money, it's a real turn off."
Levi respects her callers privacy and refuses to give details on her celeb callers. However, she often says things to herself "if only they knew" whenever she hears a friend talk about a footballer or famous person that she has had live phone sex with. When asked why she thinks the boxer reached out on the show and social media, Levi said: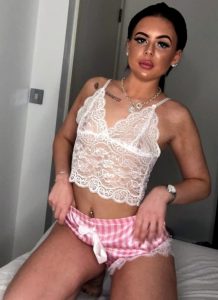 "At first I thought he had a mother and daughter fetish but the more I talk to him the more I realise he is just really funny and probably one of our biggest supporters. He always says how well we are doing and thinks we are amazing. We think he is pretty amazing too."
Babestation mother and daughter Levi and McKenzie, have been working on the babe channel together since McKenzie turned 18 three years ago. McKenzie, whose real name is Ellie, joined Babestation Cams during lockdown when she lost her office job. She had intended for webcam sex work to be temporary but when she saw her earnings multiply, she told her mum she was in it for the long haul. Levi previously told the Daily Star:
"She [McKenzie] turned around to me and said 'sorry mum I can never get a normal job after earning all this'."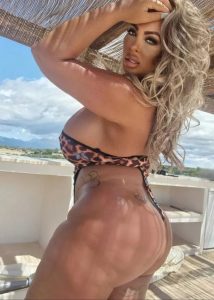 The mother and daughter have faced their fair share of criticism from people who think a mother and daughter shouldn't be working in the adult work porn industry together. However, the pair claim it's no different to taking pictures on the beach. McKenzie told Babestation's YouTube channel:
"Fair enough if we were doing anything totally illegal or weird, then that is wrong. But the things we do are not wrong, we are literally having fun and getting paid for it."
The pair also recently revealed that they had set up a joint Onlyfans where they share lingerie pics. Check out the VIP members area for pics of mother and daughter McKenzie and Levi and browse their content for more explicit videos. Check out their hot pics where you can see Levi's big tits and shaved pussy while browsing videos of Mckenize where she showcases her small tits phone sex and teen 18+ ass.