Babestation has maintained it's status as the most successful interactive tv babe channel, nude cams provider and cheap phone sex hub by constantly striving to be an original.  To be a trailblazer in the interactive adult entertainment field and pave the way for the biters to copy, then try to keep up with but ultimately crash and burn into obscurity, (Sorry Studio 66)  In this blog, part of our 20th Anniversary year, take a look back at all the times Babestation was a trailblazer and did something that nobody had ever seen before.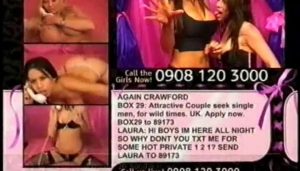 Who was the first babe to get her tits out?
On December 4th, 2002, Babestation made its premiere as the first interactive babeshow of its sort. An unfocused live broadcast of three women seated next to each other on a couch with a text box visible on the screen was the first thing Babestation showed. The models didn't initially appear topless or fully nude. It was Taylor McKenzie who took the leap and became the  first model to ever go topless by flashing her tits one night, inventing an entirely new concept. Taylor MacKenzie was originally from Canada but she lived in the UK for a number of years before she landed the job at Babestation. She now lives in Vancouver, Canada, where she works as a social worker.  To learn more, find out when Party People went topless for the first time.
First full screen babe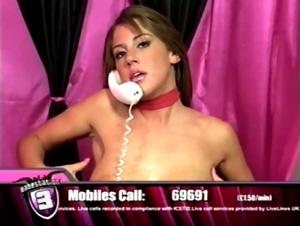 The first babe to go full screen all night was Gemma Cherry, who appeared on screen in a variety of different lingerie and roleplay costumes for the duration of her shift. Gemma was an extremely popular babe in the early days of Babestation. However, her career on the babeshows was brief. She remained on Babestation for less than two years before leaving the industry.
First C string
Reede Fox was the first babeshow model to rock the C-string. What is a C-string I hear you ask – well, imagine a rigid thong without sides. It's essentially a pussy cup that hugs the nether regions for minimal coverage and maximum effect. Reede appeared on Babestation's sister channel, Babecast where her C-String section brought in hundreds of calls.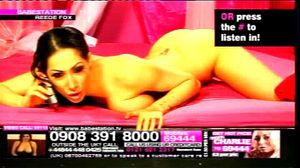 Babeshow forum user Bbrodriguez expressed his opinions on Reede's C-string performance:
"Reede is seriously fucking hot!! A bit schizo, though, as she seems to veer from 'please don't hurt me, mister' mode to 'grab my pigtails and make me gag on it' mode in the twinkling of an eye! I think that's what I like about her. Mmmmmmm variety. "
First to use oil & cream during a show
The introduction of cream and oil was actually brought to you by the former Mr P AKA Mr Producer. During a pre-show meeting, Mr P produced a bunch of baby oil and body lotion bottles from his rucksack. He had the idea that smothering the on-screen babes in oil would light up the IVR board, and he wasn't wrong. Tiffany Chambers, Dani O'Neal and Tixie were the first babes to try out the oil / cream section and it was a huge hit with viewers. Entire segments and webcam shows continue to be based around cream and oil to this day.
First babe to put on a BDSM show 
Some of the XXX babeshow models were experts in the art of kink and had absolutely no qualms when it came to pushing the boundaries on the live TV babe channels. When we think of these pioneers, one name springs to mind, and that name is Karina Currie. When Karina first appeared on the babe channels, she was already a well-known fetish model with a few porn appearances under her belt. Karina was regarded as the Holy Grail of babe channel beauties because of her pin-up appearance and XXX compatibility. Her hardcore phone sex, BDSM special debuted on Babestation in 2005 where a latex Karina invited her sub callers to worship her.
@BabeTV recalled on his Tumblr account the time he saw Karina in 2004 on a late-night Channel 5 show where she talked about her porn movies. Karina was one of the babes on Babecast's replacement, Partyland, which premiered in March 2009 and was first seen on Freeview. Candy, who eventually went by the name Kandi Kay, and Karina co-hosted the show's premiere.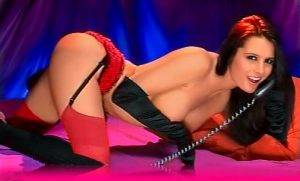 First babe to get naked
The first babe to get naked on a live TV babeshow was Emily Dean on Babecast, Babestation's sister channel. Emily Dean stripper fully nude and teased viewers by partially covering her pussy with a sheet while doing role play, dogging phone sex.
First to do Mr P shows
An interesting fact – the very first Mr P show was with Donna Duke on Babecast, who rode a fully-clothed producer whilst he groped her big tits back in 2007. The next Mr P show came years later on Sexstation, with Chantelle Fox and a producer. It was a spontaneous event where the producer was filming Chantelle POV style. The chemistry started hotting up between the pair. Chantelle starts playing with the producer's cock, which was all caught on camera in full view of the viewers. My memory is a little rusty as to who participated in the first Mr P show for Babestation, but what I can tell you is that Sophie Hart and Danni Levy were involved in some of the first few Mr P shows for Babestation. Here are some of the babeshow reactions from the early Mr P days.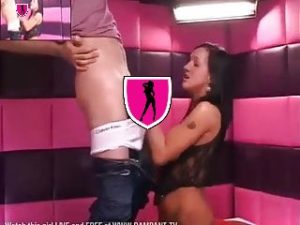 Forumdude: "Danni doing her second show now and it is her best pov ever on Babestation."
Diggertroc: "Danni was defo getting pumped last night, she gave him a handjob/blowy at the end and she defo had cum on her shoulder."