Hannah Sofia Tattooed British Babe
Hannah Sofia has been a Babestation model since 2022 when she was one the new babes of June 2022.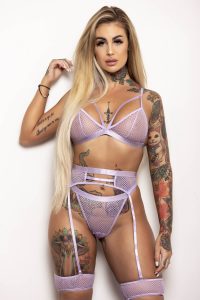 Interviewed by the Daily Star Babestation's Hannah Sofia, opened up about her passion for tattoos and how she was once denied a neck piece over employment fears.
A glamour model who got her first tattoo when she was just 15 says an artist refused to touch her neck – because he feared she'd never get a job.
Hannah Sofia was 19 at the time and was shifting in Sainsbury's supermarket
While at The Mall Luton, she expressed her desire to have a musical note tattooed on her skin. Unfortunately, her request was not granted.
The brunette beauty from Hertfordshire has been a Babestation model for two years and now boasts up to 40 tattoos, including her neck. As a tattooed model, she has gained popularity in the industry as many fans are drawn to her unique appearance. Tattoos have become a popular form of self-expression and body art, with people from all walks of life embracing this form of art.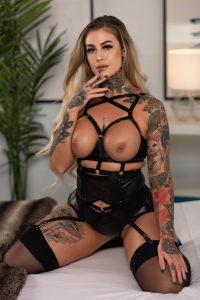 The model had worked as a stripper and a cam girl before setting herself up at Babestation. Since then she has flaunted her tattooed body on TV and has earned fortunes from it.
And speaking about her most wincing needle experiences, she said: "The neck was painful and the fingers were too but I think the most painful tattoos were on my abdomen and ribs.
"I have a dragon on my abdomen and I did it in one six-hour sitting and by the end I thought I was going to throw up or pass out.
She credits her success to her dedication to her job and her willingness to put in the hard work. She's an advocate for living life to the fullest and making every day count.
Hannah Sofia Babestation
If you like the alternative tattooed look then Hannah tattooed British blonde, is for you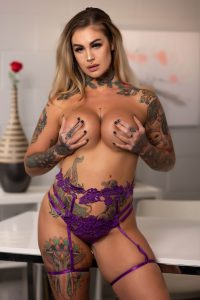 Being one of the new generation Babestation inked angels.
We've recently added some exciting new content to the Babestation VIP Members Area, featuring the gorgeous blonde performer Hannah Sofia. In this Hannah Sofia thigh boots striptease, she can be seen sporting red lingerie and thigh high boots, looking absolutely stunning.
In the full version of the video, featured in the VIP Area, Hannah Sofia performs a striptease, getting completely naked and showing you her legs and feet.