One extremely fascinating expansion to the live babeshows during the Freeview years has been that of the lads mag centre-fold and ex-reality television personality Louise Porter. Louise made her babeshow debut on Partyland (Channel 50), on sixteenth July 2009, and from the start the exciting, big boobed blonde was a prize catch for babestation's night shows. Very much recognisable from her modelling work as well as from her appearances in two separate series of the ITV program 'Ladette to Lady' in 2006 and 2008, Louise came with a built in celebrity status.
Louise's unmistakable Scouse accent was one of many qualities which made her stand apart on the babe channels and while she was obviously apprehensive on her First Partyland show, she immediately fitted in with the program's straight up and vaguely odd style.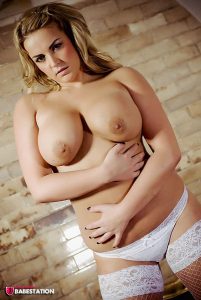 Whenever Partyland was being incorporated into Babestation through the course of August 2009, some of the Partyland and previous Sexstation TV babes did preliminary evenings on Babestation. Because of the consolidation of two separate babe channel programmes into one, there wouldn't be space for everybody, so some Partyland/Sexstation presenters and some Babestation presenters would unavoidably need to go. A great deal of models began to disapper from the Freeview night shows toward the finish of August 2009, yet Louise immediately laid down a good foundation for herself at Babestation, with Geri promptly taking advantage of Louise's reality TV history in special mic ups. In addition to the fact that Louise got her own page in Babestation's schedule that year, she's stayed with Babestation constantly right up until just a few years ago when she could also be seen on Red Light Central, Sin TV and S66.
With the disputable exemption of Jada, Louise Porter is the main unique Partyland girl to have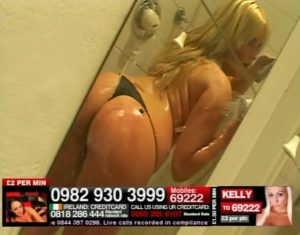 endured the consolidation and presented with Babestation continuously until the time of writing in Autumn 2013. The primary concern of discussion with Jada is that while she showed up two times on the first Partyland show, she was actually a Sexstation presenter and she didn't make her Channel 50 appearance until mid August '09 when the Babestation trades and trials were in the works. Jada was likewise off screen for a year between mid 2011 and mid 2012, so her presence on the BS shows hasn't been without interference. Lolly Badcock is the other unique Partyland babe actually showing up on Babestation in fall '13, however she left Partyland for Bang Babes prior to getting back to Babestation toward the finish of 2009, so unlike to Louise, Lolly's appearances weren't constant.
One of the best features of the brief Party Girls series on Freeview Channel 37, was Louise Porter's shower scene. It could have been felt that a greater name with a more prominent profile from TV and the magazines, could maybe be more hesitant to take the plunge at the deep end of the babe channels. In any case, that wasn't true with Louise by any stretch of the imagination. She seemed to be exceptionally game and open to ideas, and shower scenes like this were something only one out of every odd babe would consider. Louise likewise showed up in the shower on Babestation's version of Partyland.
Chalking up around four years at Babestation without a break is a major accomplishment – particularly through such a serious time as the Freeview period. In any case, it hasn't been any incredible shock. Louise has an agreeable, nice methodology, she knows the work, she has the talk and she's smoking hot!