If you're a long standing fan of the babe channels then you probably know the one and only Princess Levi. The 37-year-old curvy blonde MILF cougar, whose real name is Jema Gilsenan, first began her career as a topless model for the British tabloids; The Mirror, The Sun, Daily Sport, and the Daily Star before moving into live adult TV and phonesex. She started off on Babestation and Sexstation, but has also appeared on Xpanded TV, Red Light Central and Studio 66.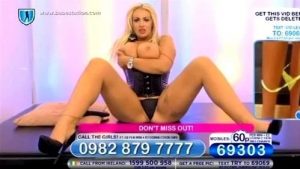 Levi enjoys dressing up in leather or latex, carrying a whip, chains, and other toys and props like large dildos, ball gags, and spanking paddles. She is well known for her domination, BDSM, feet worship, and humiliation shows. She loves to be in charge. For her adult phone chat callers, Levi goes above and beyond, and when Babestation introduced Babestation Cams.  She has recently begun doing joint cam shows with friend and fellow legend of the babeshows, Holly McGuire who is coming out of retiremnt to join Princess Levi.
Levi quickly rose to the top of the site's most popular cam models. Levi loves to strip topless and nude on cam or via her Pervcam hidden camera and nothing gets her pussy more dripping wet that baring all for her horny callers.
Some of her favourite antics on Babestation Cams and Pervcam include; X-Rated POV closeup pussy shots, anal teasing and lesbian girl-girl private webcam shows with her friends, Vicky Narni and Laura Michaels. Check them out! They're pure XXX filth!!! Princess Levi expanded her career outside the world of the babeshows, appearing in popular TV series like Judge Rinder and getting various acting roles. She also has a YouTube account where she posts about her life. Check out this clip of Levi trying to explain Babestation to Judge Rinder:
Princess Levi appeared on the show and went up against British porn star Leigh Darby, while things got heated in the court room, they managed to make up with each other after it was all over:
Levi recently introduced her teen 18+ daughter, Ellie to the babeshow industry.  The story was report on in the Daily Star about how they earn 1K together and now the hot mother and daughter duo regularly appear on TV together. Ellie performs on Babestation and Babestation Cams under the stage name Mckenzie Bleu. Levi has taught her teen daughter a lot about the industry and she is totally supportive of her daughter's choice of profession.
Mackenzie is acquiring a lot of experience in the field and enjoys learning about your most extreme pornographic fantasies and kinks. She is open to pretty much anything, but she especially likes roleplaying as a naughty XXX college girl and student. She also likes bondage and stripping.
Levi appeared in the Daily Star last year after undergoing an operation to achieve a Kim Kardashian booty. Levi forked out £4000 on the procedure and she absolutely loves her new curves. She even said that she now gets mistaken for Ellie's sister.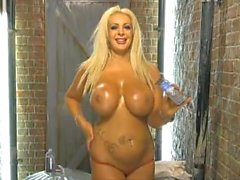 It seems like Princess Levi can't stay out of the papers, she's always trending, take this story about how she 'shocked viewers of channel five by donating second hand outfits'
Why not register free on babecall call McKenzie or her hot MILF mother, Levi for hot JOI phone sex or arrange a private webcam show with either of them. McKenzie might be fairly new to the XXX industry but she has learned her skill from the best!