Sexy brunette Sophie Hart is probably the only babe ever to have experienced working on both sides of the camera having started her career on Babestation as a producer before stripping off to talk dirty to you lucky boys.
Babestation: Sophie Hart, we're in the second month of 2021 and to mark it, you have the honour of being our February Babe Of The Month, how does it feel!?
Sophie Hart: It's like being in some glorious dream! Do I get a trophy?
Babestation:  Errmmmm….no.  So! Are you ready for your BOTM quiz?
Sophie Hart: I was born ready.
Babestation: What is something that people think is cool but has the opposite effect on you?
Sophie Hart: Guys who drive around really fast in Beamers, i don't like that…and beards.
BS:  What's your favourite dessert?
SH:  Cheescake
BS:  What's the first question you'd ask an alien?SH:  How long have you been watching us?
Babestation:  If you could marry any fictional character who would it be and why?
Sophie Hart:  That's such a good question!  Hmm who do i fancy? It's a tough one I would say Thor but that's because i fancy Chris Hemsworth who's real, so i'll say Tony Stark he's edgy, i reckon he'd be good in bed and he's got loads of money!
BS:  What animal would be the most terrifying if it could speak?
SH:  It would have to be a Daddy Longlegs because i don't like them to begin with so if one started speaking to me it would freak me the fuck out!
BS:  Who is you biggest idol?
SH:  Joaquin Phoenix, because he's a really good actor and he's vegan and he fights for good causes which I like.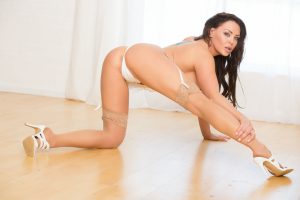 Babestation:  And finally, what's you final message to the fans before we wrap this up?
Sophie Hart:  Thanks to you all for being total perverts, keeping me in a job haha.  Look forward to many more nights of fun and if anybody wants to rescue me from those killer daddy longlegs, just get in touch.  Until next time, here's a Sophie salute for all of you, bye.
See more of Sophie Hart Babestation when you catch her on the babe channels TV or going live and xxxtra interactive on a filthy webcam show.