Babestation had its very own Wonder Woman in the form of 6ft5 Charlie who goes by the name of Amazonian Charlie or Top_Goddess on Onlyfans. Charlie recently left her home in London to start a new life in Teesside where she now spends most of her time shooting custom videos and appearing on webcam via Babenation. Charlie used to work as a carer before quitting her job to become a full-time model and content creator. Now the 27-year-old rakes in £60,000 a month from her Onlyfans subscribers and Babestation career. Speaking to Gazette Live about her previous job, Amazonian Charlie said:
"I used to work within the hospitality area along with the carers – I used to do end-of-life care as well as hospitality just to attempt to make ends meet. Those people are very underpaid, very underworked, and very under-appreciated. I woke up one day and realised I don't want to work 60 hours a week for the rest of my life completely underrated, underpaid, and exhausted – I was going nowhere fast. So I decided to make a career out of something that I have always had, which is my height. My height is a niche – I've not actually met a female taller than me to be honest!"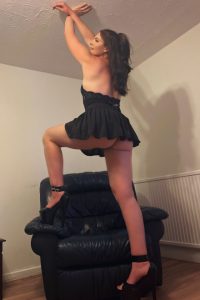 Amazonian Charlie has been 6ft5 since she was 14-years-old which resulted in her getting bullied at school. Charlie had to move schools four times due to the severe bullying. She said she hated her height as a child and felt like the "odd one out". She even tried to hide her height by slouching. She explained:
"It was something I would always try to hide. I wouldn't be who I actually am. "Now it's a very nice feeling to know that I make a substantial amount of money out of being different whereas back then to me it was something that I struggled with."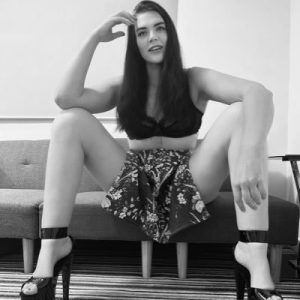 Charlie made her Babestation debut on the daytime TV show where she engages in adult phone chat and banter with callers. She will do the occasional nighttime show appearance where she reveals she feels less bound by rules. She enjoys appearing on pervcam where she gets to tease the viewers by performing an erotic striptease. She is also available for sexting where horny men can talk dirty to Charlie via text. When discussing juggling her Onlyfans career and babe channel job, Amazonian Charlie said:
"It's not easy – you have to be your own producer, you have to be your own advertiser, you have to make yourself stand out from the rest. The more effort you put into it the more you get out of it – the more money you put into it the more you get out of it. Everything has to be high-quality production."
Charlie knows what her fanbase likes and she caters to their kinks and fetishes. Charlie's fans subscribe to her account because they love tall women and Charlie shoots videos that accentuate her statuesque physique. She said:
"I have got a few things that I have shot in Redcar before and on Saltburn pier. I shot in Boots and that was quite amusing – I think there is also a video of me also walking up Redcar High Street and that was to show the height difference between myself and the general public."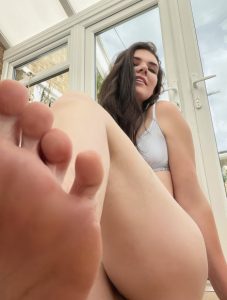 During a night out, Charlie often gets approached by men. It's tough not to notice a stunning model towering at 6ft 5inches tall, or 7ft tall in heels! Charlie is currently loving her job at Babestation where she is included in the schedule for upcoming photo gallery shoots. Sign up as a VIP member to access her videos or to browse the other girl's individual profiles for XXX pictures.
Check out more about Amazonian Charlie in this Express story.