This blog by @babe_tv from their Tumblr blog all about babe channel babes and the babeshows they appear on focusses on the relationship between babeshow babes and image.  Read on to see what @babe_tv has to say on the subject.
The requirements for becoming a babe channel model might seem minimal to some, but if you look more closely you quickly start to see that they're pretty extensive. Along with the necessary personality skills, the high tolerance to pressure, tiring work, gruelling repetition and criticism, and of course the character to deal with the implications of appearing on national television as an adult entertainer, there's also a spectacular visual image to maintain.
Those of us who've been interested in the babe channels since the noughties are fortunate in that up until 2009 the presentation of the night shows was often chatty, and not just the pre-determined collection of sales prompts we see today. Back then, you'd learn a lot about the girls and their work.
See more old school babe channels babes by becoming a VIP member now!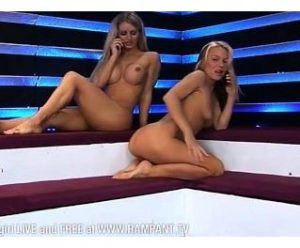 Geri from Babestation once had quite a long conversation on air about the physical side of being a babe channel babe. She stressed how demanding a long night of work could be on the body – particularly after a break from performing on the shows. But among the biggest points of interest for me was her revelation that she used to practice in front of a mirror – trying different positions and angles to see how it looked and felt. It's something I suppose every live babeshow girl must do, but it's not something the average fan would consider.
This really underlined how seriously the models have to take their image. Not only their beauty regime, but literally the way their exact poses might affect their livelihood. You can tell by the way so many of the girls instinctively stand on tiptoe when not wearing shoes that they're continuously and acutely conscious of what the viewer is seeing.
IMAGE RULES THE WORLD
Even though the core babeshow service is about telephone chat, what primarily sells that service is image. If the girls don't look amazing, they're not going to get the volume of calls they want, and looking amazing costs both time and money. Even for someone naturally beautiful, looking like a top model is not a five minute task. Everything from gym subscriptions and/or the time spent working out, through beauty products and diet, to cosmetic treatments – some TV babes have pretty evidently spent a fortune and countless hours achieving the image they want. And often, it's not just the image they want – it's the image they feel is necessary to keep their career on an upward path.
I want to stress here that I don't support the industry's blasé attitude to surgery, and I don't want to be interpreted as somehow glorifying boob jobs. Taking fitness, beauty and health seriously is one thing, but surgery is another. True, everyone should have the choice as to what they do with their own body, but when surgical enhancement becomes the industry norm, it probably doesn't really feel like a choice for some. At the very least, the issue of morons using the Internet to make girls who haven't had surgery feel inadequate should be publicly tackled by the industry. It's not some sort of 'feedback' – it's serious psychological abuse.
But moving back to the general theme of the post, image is actually very subtle, and most of what happens to entice fans into calling a specific girl at a specific time is probably subconscious. The difference between a girl pressing a fan's OMG! button or not is small, and it's very difficult to define, but adult entertainment is an extremely competitive business, and that small difference matters more than anything. Image is also a gateway to confidence, and the confidence can probably have as great, if not greater an effect on an audience than the image itself. If a girl feels sexier, that's going to come across to viewers, so her image can connect with the audience in both a direct and an indirect way.
BEING A FANTASY
For some babe channel fans, the vision that appears on TV does represent a real girl. But by and large the models are heavily made up to represent a contrived male ideal of female glamour. Some of the girls must spend a fortune on their hair alone, and unpaid hour after unpaid hour keeping their skin looking smooth, soft, uniformly tanned or whatever. That's before you even consider the makeup, which often changes their appearance drastically.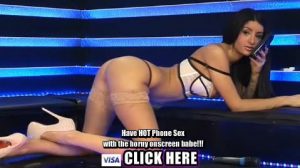 When you see the girls without their usual screen makeup, the first thing to strike you is that they look quite different, but the second thing is that they're naturally very beautiful with extremely good skin and pretty, if less exaggerated features.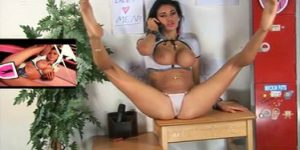 I found a good comparison of 'screen' makeup versus something much more subtle in a couple of shots of Lacey Lorenzo. Above she appears in her typical TV makeup on Babestation 1. And below, she's captured doing a promo without the heavy eye-lining and lashes. As I say, the girls are naturally very attractive, and the natural look suits them, but it's noticeably different from the image fans normally see… (PICS UNFORTUNATELY UNAVAILABLE)
And here's another very interesting analysis of a top TV babe trying out a different look from her TV stereotype. The pic below shows Lori Buckby on BS Xtra in February 2012…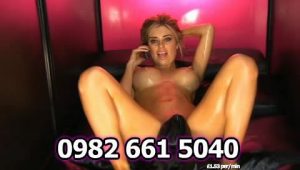 She's wearing makeup, but it's a lot more subtle and conventional than the heavily shadowed and lined eyes typified in the image below. I liked the more conventional makeup style on Lori, but she didn't use this look on the shows again, and there were some indicators on the night to suggest she wasn't happy with the commercial uptake. She clearly looked good, so if there was any shortfall on the stats, I wonder if the problem was more one of recognition than disenchantment? A very different style of makeup does have quite a marked impact on any girl's features, so after one or two drinks, more than a few viewers may not even have realised it was Lori they were looking at.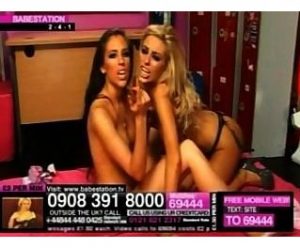 The value of the investment the girls make in their appearance is considerable. Their beauty enables them to maintain a high profile and earn a decent living, but the emphasis is on the word 'earn'. They still have to work hard, offer the best service and put up with all the crap if they want to stay at the forefront of the business, and even then success doesn't come by default. Being the nation's fantasy pays, but it also costs, and I think the cost is much higher than most fans imagine.