Below is one of the many in-depth blogs that @Babe_TV wrote about Babestation in their old Tumblr account.  Unfortunately that account no longer exists but we have a number of blogs that we have been re-publishing for anybody interested in the History of Babestation, particularly from the perspective of a super-fan.  This particular blog post from 20th October 2013 is about one of the old shows, Babestation Apprentice, we hope you enjoy…
In January 2012, Babestation solicited views from fans on whether a show called Babestation Apprentice would be a welcome new component in Freeview Channel 97's range of trial concepts. Dirty Wives and Masti Nights had already joined Babestation Blue in an alternating sequence of nightly Channel 97 shows over the course of the week, and Sexstation had seen a very brief airing too, but the Babestation Apprentice concept was a bit more revealing of the thinking behind its implementation.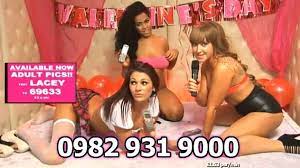 Publicly, the idea with Apprentice was to take unknown or little known babes and pitch them against each other in a commercial environment to see who should progress further on Babestation's TV channels. But really, the only difference between that idea and Babestation as a whole was the profile of the models. Babestation is one big competition which never stops. All the girls have to constantly justify their place in commercial terms. If they can't, they get replaced. It's as simple as that. So the only thing new about Apprentice was that the labour would be cheaper.
Established Babestation models must surely have looked at the Apprentice concept and considered that it had very little to do with entertainment, and a hell of a lot to do with cost-cutting. Lower profile models cost less than well-established models. That's obvious. The only question now was how many of the new girls would take existing models' shifts – not just on the 'trial channel', but across the board…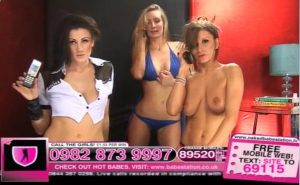 Babestation Apprentice went to air on the night of 2nd to 3rd February 2012. The pic heading this post shows the three 'contenders' on that opening night – from left to right: Abi, Carla, and Luan. Both Carla Mai and Luan Nikita worked their way into appearances across the other Babestation channels. Two successes (in the immediate term at least) from the first show alone – which gives some idea of how big the implications were for the established girls. This was not BBC's 'The Apprentice' adapted for Babestation. It wasn't an organised contest which would explore the audition process from behind the scenes and have just one winner. The clear aim was to cut costs by potentially replacing established, well-paid girls, with not-so-well-paid newcomers, and almost immediately there was a predictable exodus of big-name glamour babes.
Overall, a considerable number of the Apprentice girls progressed, at least in a trial situation, to other Babestation channels, and some became permanent fixtures. In fact it was soon pretty difficult to work out who was supposed to be an apprentice and who'd progressed to the next level. Whilst some of the girls new to Apprentice moved over to Babestation 1, Xtra or Xtreme, various girls who'd started with Babestation on the 'bigger' shows moved apparently 'backwards' to Apprentice. Both Lacey Lorenzo and Nicole Knight began appearing on Babestation's main shows before the Apprentice concept went to air, but they each subsequently stepped 'down' onto Apprentice once it was in full swing.
Much more ignominious, though, was Vanessa Walker's appearance on Apprentice. At least Lacey and Nicolle were newcomers to BS, who probably wouldn't feel that aggrieved being categorised as 'apprentices'. But Vanessa was a well-established Babestation girl who'd taken the step of moving from days to nights, after stressing in a documentary that she had strong reservations about doing so. Putting her on Apprentice after she'd made that kind of sacrifice just seemed crass. She didn't look particularly happy, and within days she'd moved on – to Bluebird.
In the pic above, you can see Lacey Lorenzo on BS Apprentice. Like Nicolle Knight, Lacey did move back to the main channels. In fact, Lacey's success has really blossomed, and as I write she's a major name on the Babestation schedule. She's exceptionally pretty, and that helps a lot, but she also takes after Lolly Badcock in her ability to say the right things when selling the service, and she's got masses of energy. That probably helps a lot more.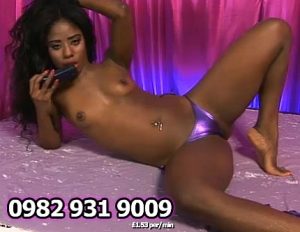 Above, you can see an example of an Apprentice girl working on the main Babestation channels. Here on BS Xtra is Olivia Bond, who I thought had a great look, had all the right body language and visual communication when working solo on a 'bigger' show, and to me, looked a likely candidate to stay. Unfortunately, like almost all of the Apprentice girls who showed initial signs of progress at Babestation, Olivia is no longer on the Freeview babeshows.
For me, the three-to-a-screen, every-girl-for-herself thing was the biggest turn-off with Babestation Apprentice. It morphed what was meant to be an erotic fantasy service into something more in keeping with a sporting event, and that seemed counter-productive. You'd switch on and just see three topless women vying to be the one who gets noticed. If it was possible to shout with body language, then that's what Babestation Apprentice was all about. Three girls on a TV screen silently screaming: "Me! No, not her! ME!". That, for me, threw away all semblance of eroticism.
Apprentice was phased out around the end of 2012, and kind of replaced in early 2013 by Babestation Academy. Apprentice did bring some well-received newcomers to Babestation (indeed Lexie Rider is still in serious demand on the BS shows as I write in October 2013), but it wasn't my favourite concept. The business always needs new faces, but not at the expense of established favourites, and not cheapened from the start by a programme which basically bills them as amateurs.
If you're interested in viewing old Babestation, archived content, get access to everything by becoming a VIP Member here.