From the mind of @babe_tv, here's a look back at some of the most exciting times of Babestation's babeshow history, specifically the nights of Tiffany Chamber's Birthday.  Here's some memories and impressions from that time:
Rather than looking at a subject or an era in this post, I've picked out one specific night on the Babestation shows, which I think serves as a perfect reflection of the period.
The night in focus is that of Saturday 4th to Sunday 5th December 2010 – in the thick of a long and hard freeze across the UK which eventually seized up a number of water supplies, causing a serious water crisis in some areas. But as the nation froze, Babestation turned up the heat, producing this memorable weekender in the run up to Christmas. The aura of the shows was by this time very different from the way things looked and felt the previous spring. Quicker and more 'alive', but with a stop/start motion punctuated by frequent interviews and other sales features.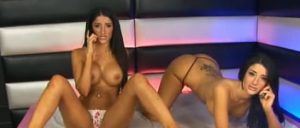 If there was one thing that defined the buzz of Babestation in the initial months of the Teleshopping era, it was actually two things. Well, two twins. At the time still relative newcomers, but already well-established names, Priya and Preeti Young would appear side by side, one phone each, almost exactly mirroring each other on screen. The image above sums up the visual impact this would create. No rival babeshow could top this as an opening vision.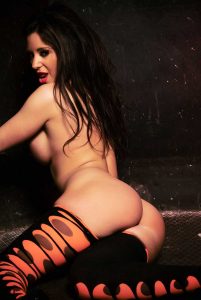 Babestation circa 4th to 5th December 2010 was special in that it featured Tiffany Chambers' onscreen birthday party. When you mention the game of Twister in relation to live babeshows, most Freeview viewers who go back to the noughties will immediately recall Rachel Cole and Kelly Carter's 9pm text-driven game on Party Girls in early March 2009. That's the one people remember because it lasted a long time and was played on the mic. But there have in fact since been several other appearances of the Twister board on Freeview babeshows, including (predictably) one on the old Sexstation-run Partyland in early May 2009, one featuring Camilla Jayne and Ava Blue on Babestation in mid July 2011, and the one marking Tiffany's birthday on Babestation 1 in December 2010.
The girls involved here were Lolly Badcock, Leigh Smith, and of course Tiffany, whose white underwear set was fairly promptly removed to accommodate a cream-assisted boob-on-boob massage from Lolly.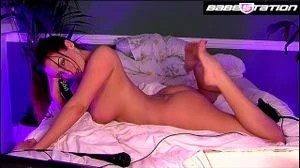 On Glamourchase, Priya Young and Daryl Morgan combined their creative input for an all female eavesdrop phonesex line. Georgie Darby was also featured across the babe channels on this night, and had been a top choice for Glamourchase from day one. So many A-listers packed into one Saturday night. How big an event would a lineup like this be on Babestation today?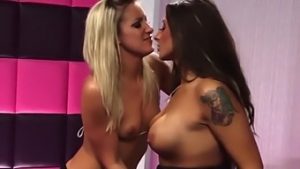 Early December 2010 lay at the height of the Babestation Xtreme era, and on this particular night the two main stars of the Xtreme live transmissions were Angel Long and Tina Love.
Megan Moore was entering the final stages of her transition from adult phone chat  girl to dedicated presenter at this time. In December '10 she was one of a handful of Babestation girls sharing a night to night presenting rota, but here on 4th to 5th of the month, Geri was the presenter, and Megan was working on the phones.