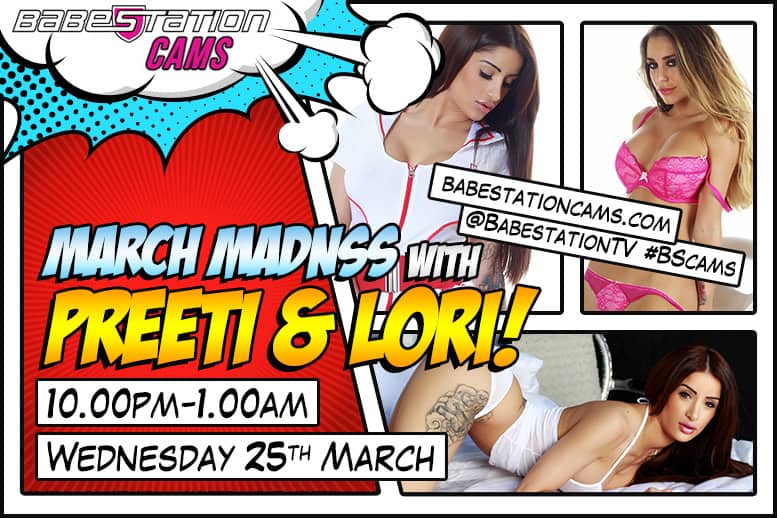 We have a stormer of a show for you on Babestation Cams tonight! Better than you can watch on porntube It's a joint, girl-on-girl show with Preeti & Lori Buckby. It's been a while since we got these two together on webcam, and who the hell knows when we'll manage it again!? So get yourself down to the Cams website today and make sure you've got the credit to get involved in the show. It starts around 10pm, and goes out LIVE from the Babestation Studios!
See sexy videos of Lori Buckby here:
Message from Preeti:
I'm certain that all of you have witnessed me undressing on one of the babeshows, whether it's Redlight or Studio 66. However, it is here at Babestation where I can truly connect with you and have an even more enjoyable one-on-one experience.  There are no rules, restrictions, or limits… Join me in my bedroom so that I can fulfill your deepest adult entertainment fantasies.  On webcam, we can indulge in explicit content together. I can entice you with my ample breasts or give my juicy behind a playful spanking. Perhaps you could join me for an intimate private session and engage with my intimate area.  You may have come across one of my pornographic videos where I strip naked and provide a stimulating joi. Well, this is your opportunity to experience me live and fully interactive. Stay updated on my activities by following me on Twitter and find out when my twin sister Priya Young and I will be online next. Get ready for the distinctive Preeti and Priya, the 'Young twins' encounter.