Following on from Babestation In The News part 1, which we posted last Thursday.  Part 2, featuring more classic pics and articles of Babestation babes in the news and lads mags.
Scarlett Magazine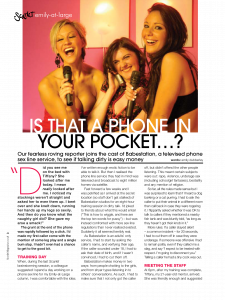 Reporter Emily Dubberley was invited to the Babestation studios to be an honorary babeshow girl for an evening to see what it was really like to be a phonesex operator. Emily is pictured above with Yvette Merrimen and Tiffany Chambers. The column was for 'Emily at Large' and as an erotic fiction writer, Emily wanted to see what goes on at a live TV babeshow studio. If you read the article you'll see that Emily seemed pleasantly surprised at how professional the entire setup is.
Zoo Magazine
Zoo magazine featured Babestation and Babecast star, Delta White, along with iconic glamour girls, Jordan and Jodie Marsh. Another picture captured a particularly raunchy moment where Delta was making out with three other women – Laura Jane, Tara and Selena. The evening was in aid of a TV XXX party and the girls can be seen topless and frolicking on the sofa.
Naked News UK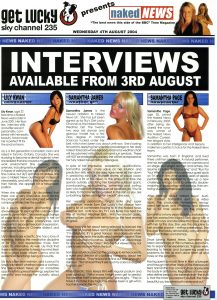 Sky babe channel Get Lucky 235 had their own weekly newspaper that featured all the news about what was coming up on the channel and bios of the presenters. This article from August 2004 featured information about newscasters, Lily Kwan and Samantha Page and Weather Girl Samantha James.
FHM
British lads mag, FHM, ran a full feature spread on Pages 1-6 of our top trending babeshow babes at the time – Tiffany Chambers, Dionne Mendez, Dani O'Neal and Nina. A full feature  interview on pages 2-6 revealed the babes dirty sex secrets. In the interview Tiffany recounts a rather raunchy story where she was horny whilst travelling on the Eurostar with her boyfriend.
FHM also ran a full feature on Delta White in this issue, who looked stunning in fishnet stockings, a silver belly chain and her Playboy bunny tattoo on full display on page 10. Page 11 gave the readers an ass-tastic view of Delta, who naughtily glances over her shoulder at the camera, giving her iconic 'fuck me' look.
Pages show Delta lying on her front while holding Jenna Jameson's best selling book, How to Make Love Like a Porn Star.
Max Power Show
Many of our babes attended numerous car shows and Max Power events to showcase the Babestation brand and meet the fans. We unearthed these pictures of a Max Power event in 2005 where Dani O'Neal, Delta White, Holly James and Dionne Mendez were in attendance. Here they are flaunting their curves in sexy lingerie and having a blast while they take photos with fans.
Daily Sport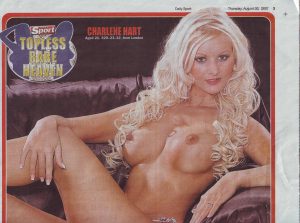 Daytime babe, Charlene Hart AKA Cherri was featured topless in the Daily Sport in 2007. Blonde goddess, Charlene was on Babestation and Babecast from 2006 and she was an excellent presenter and phonesex operator. She was a fan favourite and popular on the babeshow forum. Charlene retired in 2012 and began a career in sports presenting and bodybuilding.
Nuts Bedroom Babes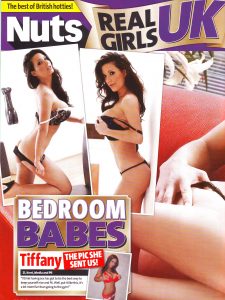 Back when the lads mag was king, Nuts was one of the most popular British publications. They featured a column titled 'Bedroom Babes' where girls could submit their own pictures in the hopes that they could be featured in the magazine. It was no surprise that when Tiffany submitted her photo she was promptly invited down to the Nuts headquarters for a photoshoot. This issue featured Tiffany Chambers looking sensational in black and white lingerie.
The Big Issue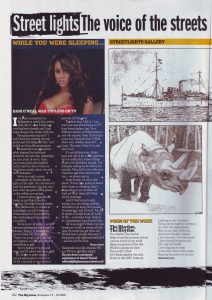 Many folks haven't read The Big Issue but you'll be surprised at the excellent editorial work involved. This issue released in 2006 ran a piece on the First Lady of Babestation AKA Dani O'Neal. She opened up about how she entered the live babeshow industry and what is involved in the running of a TV show.