Beth Bennet is a curvy blonde Kiwi glamour model who was born and raised in Dunedin, New Zealand. A veteran babeshow girl and TV presenter, Beth has everything you want in a nude model and phone sex queen – banter, beauty and brains. Petite with an hourglass figure, a winning smile and big tits, Beth encompasses everything you could ever want in a woman and she prides herself in offering a professional XXX service when it comes to phonesex and cam performances.  She has also reached the top 1% of OnlyFans earners having been active for 3 years . Its good to see a Babestation babe doing well.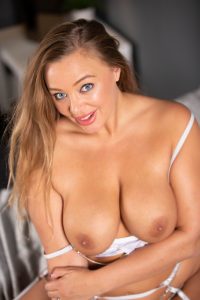 Back in New Zealand before Beth was the queen of the babe channels she graduated from the University of Otago with a degree in Bachelor of Arts and another in Bachelor of Commerce. In 2012 she decided to go travelling and flew nearly 12,000 miles to London. It was then Beth realised that there were bigger things in store for her and after seeing Babestation on TV she decided to apply for a job on the babe channels. After doing some research and flicking through the live babeshows (Babestation, Studio 66, Playboy TV, Redlight Central) Beth decided to apply and was quickly snapped up as a presenter and babe.
Looking back on her first night on Babestation, Beth reveals that she wasn't as nervous as you might expect. An exhibitionist by nature, Beth said she found it easy being topless and nude on camera, in fact she reveals that getting to show everybody Beth Bennett undressed felt quite liberating and so began a long history of being naked on screen.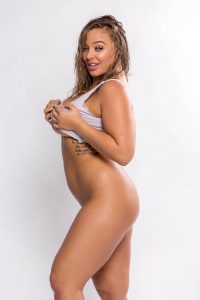 Back when Beth first started there was no such thing as Pervcam, only private calls and webcam so Beth is extremely happy that Pervcam exists today. She says: "I like Pervcam as not everyone is confident in talking so they can get involved in different ways. But then I have some people who still call me from back in the day so it shows that some people never change and I like that."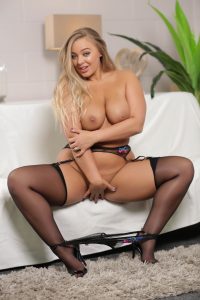 Beth is a woman of many talents, she's a content creator, (you can see some of her content for Babestation videos where she takes off her orange bikini) She's also a phonesex operator, glamour model, cam girl, porn star and sex icon. She enjoys talking to her fans and putting on explicit hardcore shows on Babestationcam and BSX featuring lots of pussy play, fingering and lesbian girl girl UK porn action. Nothing is off limits during a dirty phone chat with Beth Bennett pink underwear and a sexy striptease.  She has experience in JOI, anal, spanking, feet worship, dildo blowjob, domination and humiliation. Call her on Babecall or take her private on cam where you'll get to see her undressed and getting fucked with a dildo, spreading her wet shaved pussy!