Babecall is your all in one wallet where you can watch Pervcam and interact live with the babestation babes for some filthy phone sex or naked xxx-rated fun either in a group session or a more personal, one-to-one private show all from your mobile phone!  Head over to babestation.tv now to get started or if you'd like to know more, check out the rest of this blog as we delve into the services and benefits that babecall has to offer.
Registration:  After signing up on the registration page, you'll land on the mainpage showing you the list of all the sexy ladies who are currently live and ready to play with you.  But first, you'll need some credits!
Buying Credits and Topping-Up: Pressing the button in the top left corner reveals the drop down menu with a list of all the features the app has to offer. At the top of the list will take you to the credit top-up page which you'll need in order to interact with the babes.  It's simple, it's easy and we regularly provide special offers so you can get extra free credits and make your money stretch even further.
Once you've topped up your credits, here's what you get…
Pervcam:  When appearing on the babe channels the babes have to abide by strict rules for what they can show but Pervcam brings you all the angles that you would normally never get to see!  We're talking open leg, pussy and anal play, live for you to watch!
Cheap Phone Sex:  Using Babecall is much cheaper than using premium rate numbers there are no connection fees or  access charges.  Join the party at Babestation with the hottest cheap phone sex in the UK. The filthiest adult chat is waiting for you, choose a babe to call now.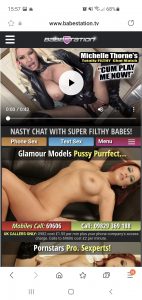 Lovense Vibratoy Interaction:  Babestation has had a long history with Lovense sex toys and it's been an extremely pleasurable partnership, especially for the babes who receive your buzzes live and interactive and ranging in intensity from Vibrate to X-Hard to XX-Hard all the way to Make Me Cum! During their live webcam shows.  In recent years we have even upgraded and increased the variety of new sex toys that you can now interact with.  With enough credits you could have your babe squirting on set before she knows it!  And don't forget, the more buzzes and tips you send the babes, the further up the Babestation leaderboard they will rise.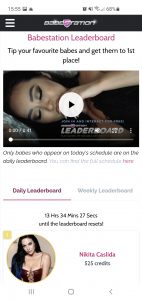 Gold Shows:  Gold shows have arrived at Babestation and since they became part of the show, more and more people have been making the most of getting exclusive golden tickets to watch the babes in action!
Live Sex Cam Shows:  You can also choose from Live sex cam shows with the beautiful Babestation babes or get live and filthy with one of the World Cams hotties who are also available from around the world for naked fun and dirty chat.  Choose from a group session or get intimate in a private, one to one show.
VIP Membership:  Babestation VIP members get a whole host of extra benefits that aren't afforded to anybody else.  It's an exclusive club that grants access to an archive filled with  almost 20 years worth of porn pics and videos.  It also provides live webcam shows that nobody else can access and exclusive offers for extra free credits.  Through Babecall you can keep up with all the latest updates to be added to the VIP members are and you can even sign up on the app as well!
Other Features:  Through Babecall you can also keep up with the babe's Schedule, so you know when and where they will be appearing next, you can instant message the babes and you also get access to the Babestation Blog for news, reviews, Babe of The Month interviews,  babe profiles, articles and much more.
Any Questions?
Check out the Babestation FAQ to answer any additional questions you might have.