It's been a moment since Jada first landed on the live babeshows – 15 years to be exact.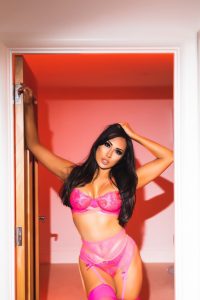 She was was first introduced to the babe channels after she starred in a TV advert for a dating text service. The director suggested that with Jada's strong look, natural tits and quiet confidence she would do well in the industry. Jada began working on Sexstation and LIVE XXX and her iconic rise to glamour fame began. In a previously recorded Sexstation interview with Jada showing on babestationtube, that was shot more than a decade ago, the iconic glamour model reveals that she has modelled for all kinds of magazines and websites where she has catered to multiple genres such as fetish, art nude, topless and lingerie.
When asked if being in the industry has affected her private life, babestationx model Jada Cameo responds:
"It does affect my private life yeah. If I'm out in a bar someone might should "hey, you're Jada, I've seen your tits"
The interview continues with Jada answering the question: what did you do before you were in the industry?
"I was a dancer, but not a stripper. I did street dance and I was the girl on the podium at drum and bass raves"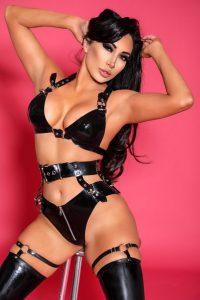 Jada was born in London to an English mother and Japanese father but she moved to Tokyo when she was a child before later moving back to London in her late teens which is when she discovered the interesting world of glamour. Throughout her career, Jada remained loyal to  Babestation and our sister channels, including Sexstation, Blue Kiss, Partyland and BSXtra. She later went on to appear on other babeshows such as Playboy TV, Xpanded, Studio 66 and Redlight Central. Her petite body, big tits and a shaved pussy attracted a huge fan following and she was one of the first babes to cater to the cosplay market on the babeshows. When other girls were donning a pair of devil horns for Halloween, Jada would pull out all the stops in a custom-fit Jessica Rabbit outfit or Chun-Li from Street fighter costume. To top it off, Jada had Chun-Li's moves down thanks to her many years training in the art of kickboxing. Even now in her mid 30s, Jada can still do the splits just as she could when she was a teen 18+.
To see Jada's archive of topless, nude and solo porn work, check out her picture and video callers in the VIP members area or take her private on cam for an X-Rated naked show where she caters to all of your fetish fantasies such as feet worship, humiliation, bondage and hardcore BDSM. Come and play…!