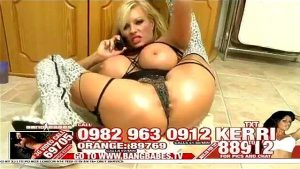 Does the image of Michelle Thorne above confuse you? The graphics say Bang Babes, yet the look and feel of the show comes across like Playboy/Red Light Central. Truth be told, it's sort of both. This is a fascinating scene from November 2010, right around the time during which the core of Bang Babes turned into the new essence of Red Light Central.
The show is Bang Babes, and the place isn't Bang Babes' London studios, yet Cathy and Phil Barry's studio in Bristol, which in this way turned into the home of Red Light Central and Playboy TV Chat.
These Bristol transmissions were isolated instances featuring Michelle Thorne and were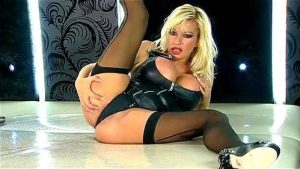 incorporated with regular Bang Babes output from their main studio over two nights on Babe channel 98. Michelle's section shot at The Barry's studio dominated the schedule. On this particular show at 3am over 4/5s of the transmission featured Michelle at what would later become the home of Playboy TV and RLC.  Ofcom then issued a full statement of licence revocation on 25th November '10, following a 19-month period of regulatory breaches and unsatisfactory responses, which included 48 separate infringements, and then another 9 breaches in the three-week period during which Bang were under notice of proposed revocation. It was fairly safe to say that the company was not taking the situation particularly seriously.
Bang Babes briefly continued broadcasting via Playboy channels and they also tried to circumvent Ofcom's rulings by giving viewers technical instructions for restoring certain channels. There was even a rumour in 2010 that they might attempt a come back to Freeview, against Ofcom's wishes. By early January 2011, however it had become obvious that trying to broadcast on the sly was a lost cause commercially, and Bang Babes finally shut down.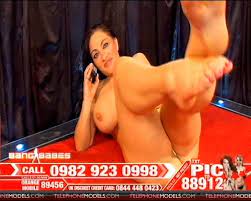 Cathy Barry had been the top babe at Bang Babes and she became the new public figurehead of this new branch of the existing SKY channel, Red Light Central. By the end of January, RLC looked like just another continuation of Bang Babes and it's lower profile models expressed dis-satisfaction with being replaced by new girls from the old Bang Babes. Looking back at those old Michelle Thorne shows, it's possible to see them as a sort of rehearsal for what was to come what with Bang Babes being under notice of license revocation at the time. How far down into the ranks of the staff that news had filtered I don't know, but the level of uncertainty about the company's future must surely have reached crisis level. I wonder how close some people's notion of the future was to the way things actually panned out?