In April 2010 glamour Model Alice Goodwin made her UK Babe show debut on Elite TV, (later to be known as Studio 66 TV before it disappeared from our screens).  This was followed in August by the Babestation TV debut of the Young twins Preeti and Priya. As noted on a popular fan site: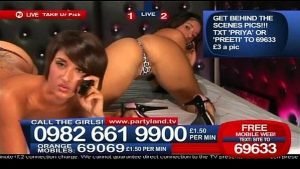 "By August 2010 Babestation was in the early stages of a new modus operandi. The first phase of intensive, 'power presenting' had been gathering pace since spring and the biggest shows were moving towards a more driven regime in which it would become obvious that the channels were no longer screening shows – they were screening adverts.
Fortunately, Babestation managed to provide all of those ingredients in a single move: hiring the 'Tantric Twins' Preeti and Priya. New faces on the babe channels, the twins were different, highly glamorous, exotic, compatible with the encrypted channel and praise the Lord – there were two of them! .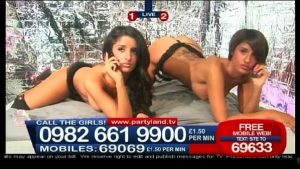 "Both gorgeous girls, really like Priya's short hair, she also has a fantastic bum."
"The Yum Yum Twins are Awesome & totally Rocking tonight, Oh Me & My Stiffler r luvin it…."
Preeti had no prior experience with television or adult phone chat, when they first appeared on the screens of Babestation when they were just 23 years old. Priya was the first to respond, "I just remember feeling excited and nervous" when I asked the pair about their early experiences and what they remember thinking when they took a call.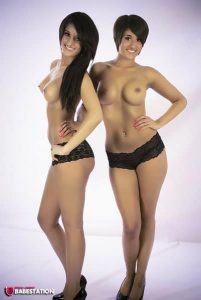 Priya goes on to explain:
It was the funnest night! We were only meant to do a few hours but they asked us to stay the whole night. There was a really good group of people in that night and when we finished we went to an after party club at 6am!".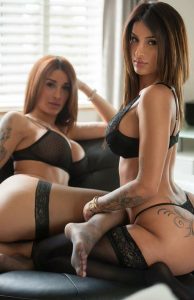 Preeti continues:
"That night, Geri, Lolly, and Leah J were there." I'm not sure who else was there. "Everyone was so nice to us," she said.
The girls' 2-4-1 phone sex sections were very popular, and they loved sharing a the screen. Preeti and Priya Young often attempted to match their outfits, which left fans gagging and yearning for more. At the time, they seemed to favour simple yet elegant sexy lingerie, silk stockings, and short skirts. Anything that featured their boobs and butt appeared to be attractive.
See pics from their first ever shoot together here
Preeti and Priya are two extremely successful models who have Instagram and Twitter accounts, respectively. However, when they join forces, they are unstoppable. The ladies are also content creators, actresses, and webcam models, in addition to having vids and clips on Pornhub and other tube sites like Babestationtube.
Preeti has also appeared on other UK babe channels including Studio 66 Playboy TV and Red Light Central. The Young twins have even appeared in mainstream TV shows, including My Mum's Hotter Than Me on Channel 5, which featured Preeti and Priya's smoking hot milf mum who went on to describe the family as the 'Kardashian's of the UK'. After the episode aired, the hot twins were splashed all over the tabloids and they received many front page spreads.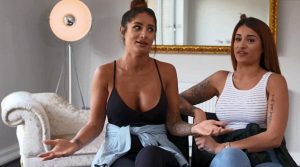 The Young twins have risen to the top of the popularity pyramid of the UK live babe channel, putting them in the running for inclusion in most fans' all-time best 10 lists, thanks to their dedication and hard work. Their efforts have paid off in an industry teeming with flash-in-the-pan entertainers and also-rans who are unable to maintain their level of success.
Preeti and Priya Young we salute you.