This blog about Babecast TV appearing on the babe channels and the introduction of Ella Jolie was first posted on @Babe_TV's Tumblr on 27th Aug 2017.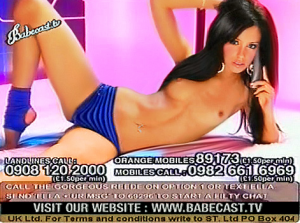 Babecast TV was a Cellcast Sky babe channel which had run parallel to Babestation through the bulk of the noughties. It never officially broadcast on Freeview, as the channel was reworked to become Partyland in March 2009, to coincide with its launch on Channel 50.
Babecast did, however, broadcast on Freeview Channel 37 instead of the scheduled opening to Party People, on the night of 19th to 20th February '09, almost certainly due to a feed error. Freeview 37 broadcasts were subject to a strict non-topless rule at the time, so it's very unlikely this brief screening of Babecast was intentional. A unique capture to get from a Freeview receiver though, with Babecast carrying its full Sky graphics and transmitting in 4:3 screen format.
Featured girl Ella Jolie was unfamiliar to terrestrial-only viewers at the time, but would become a familiar face just a month or so later, after Babecast morphed into Partyland, and Partyland hit Freeview. You can see from the text box onscreen that Reede Fox was 'tag-teaming' with Ella for this particular Babecast show.