Get these brand new updates to the Babestation VIP members area featuring some of Babestation's top trending babes and best British pornstars.  Some old school faces you'll know from the babeshows and other babe channels.
Monday 19th September – Kourt Thora – Kinky Cabin Crew Video & White Outfit Strip Pics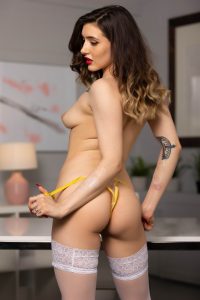 Kourt comes off pervcam and gets kinky in this cabin crew role-play video that's already waiting for you if you join the Babestation VIP members area now!  She'll strip naked and make sure you get up, up and away.  You can also view her picture set as she strips out of her white outfit and lingerie.
Tuesday 20th September – April Jones  – Bodice and Fishnet Video
See that beautiful babenation babe body out of that tight black bodice as April Jones strips and plays with her wet pussy. Get yours to watch over and over again today!
Wednesday 21st September – Cici Anders – Sloppy Classroom BJ POV Video
POV videos always hit a little different as they put you right in the action.  With this BJ POV video, you'll get to experience what it's like to have babeshows babe Cici Anders polish your knob.  It's almost as good as the real thing!
Friday 23rd September – Beth Bennett – Officer Bennett And Her Vibrator Video & Sexy Black Lingerie Pics & BSX HARDCORE Michelle Moist and Tina Love: Moist Evenings
Big day on Friday! sexstation sex pot, Beth Bennett brings you her police themed video where she replaces your truncheon with a big ass vibrator and gets busy for you to watch and enjoy!  She's also releasing a brand new set of naked strip pictures.  Not only that, how about an old archive video from the BSX vaults featuring top British Porn Stars and stars of rampant tv Michelle Moist and Tina Love in naked girl on girl XXX action.
Saturday 24th September – Amber Paige – Naked Strip Video & Naked Strip Pics
Amber Paige rounds the week off in style with her naked striptease pic and videos where she reveals everything you could possibly want to see in both a video and picture set.
Join these babeshows babes for a live babecall, register for free now!