What makes blokes call babeshows and interact with webcam shows?
Back in 2013 a blogger on the Tumblr account, @Babe_TV posed the question, "What makes guys call babeshows".  Back then the format of a babeshow was simple.  Guys call the number on screen, connect with their chosen babe and then have either a nice, normal conversation, (daytime compliant) or if they're calling during one of the night shows the conversation would be of a much more adult nature, (phone sex).  Nowadays, with the addition of pervcams connected to each girl's online profile via babestation.tv the options for how to get involved and interact with each babe on each show as it goes out on TV has vastly increased.  Now viewers can see much more than ever before while watching on TV by selecting the pervcam button and getting access to the views that couldn't possibly be seen on any television channel.  Not only that but they can also choose to send in a buzz to the girl's vibratoy which she is wearing in secret, between her legs.  With such a high level of interactivity now available, the question of why blokes call babeshows takes on many more possible explanations.  The basic principles however are always the same.
In their blog, @Babe_TV dissects the ability of a girl in front of camera as one of the reasons:
Why do guys call babeshows?
The illusion of television is instrumental in maximising customer desire, and the girls have to use the illusory visual connection with viewers to their advantage. In an environment where the bulk of the advertising is non-verbal, issues such as attentiveness, camera awareness and eye contact can make or break not just individual models, but entire channels. Channels with a high incidence of poorly motivated models, who look disinterested and/or more engaged with what's going on behind the scenes than at the other end of the phone, have a history of poor commercial performance and competitive failure. And that makes total sense. Why would you want to call someone who doesn't look like she's interested, when you can call someone who looks like she is?
Confidence, and a natural, unforced manner also appear to be extremely significant components in individual girls' success. Girls who look like they're faking their enthusiasm (and nerves can highlight that impression), tend to struggle, and girls whose communication sounds 'forced' tend to disappear very quickly too.
This explains how performance can be a critical component in creating a viewer's desire to become a caller and the same principle can be put to how a girl conducts her webcam shows and babeshows as well.  Especially in terms of how she conducts her tip goals and keeps her audience tipping and sending in buzzes to her vibratoy in order to reach each new goal and in turn, carry out the performance that her audience has paid to see.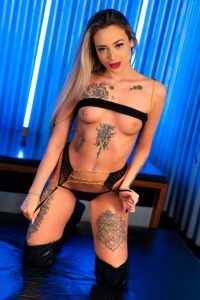 Why do guys visit girls on webcam?
While a guy can get a one on one interactive experience with a girl on screen when he calls the TV channels, there is always going to be the reality that it is not 100% private as sometimes calls can have listeners, waiting in the queue to speak to her next.  But with a webcam show, the possibility for a truly one on one interactive experience is much more real.  See the girl in a group session and you can share in the delights of her performance, and send in your tips and buzzes to her vibratoy in order to see whatever tip goal she is working towards and enjoy the babeshows with anybody else who is logged on at that time.  Take that girl for a private session however and you get the chance to take her out of the group and literally have her all to yourself.  Choose the cam to cam option and you can even have her see what you're doing at the same time as you see her.  So many options the possibilities for what you can get up to are almost endless.
There are a huge number of webcam girls out there.  The advantage of Babestation is that some of those girls when they sign up to our site get exposure on TV to get their face out there.  A massive opportunity for any girl to show a wide audience who she is and what she's capable of doing.