Babestation celebrates its 20th anniversary in December so we thought we would take you on a stroll down memory lane and look back at previous anniversary parties and events throughout the past two decades.
Babestation's second Birthday party
If you look at this captial pictures gallery in the link below, you'll see some of the first ever babeshow models. Models such as Tiffany Chambers, Laura, Rachel, Delta White, Zoe, Izzy, Kat, Sahara Knite and Jamie Lee all paved the way for future babe channel girls. Many of the models in these pics have slipped into obscurity. However, Tiffany Chambers remained on the Babeshows and performed webcam shows until her retirement several years ago. Delta White and Sahara Knite went on to become popular pornstars, with multiple hardcore boy-girl and lesbian girl-girl scenes under their belt. Both porn stars went on to work for Brazzers, Fake Taxi and appear on Pornhub for genres such as BBC, bondage, anal, bukkake, deepthroat, JOI, cum facia and creampie. These links below were taken at Babestation's 2nd birthday bash at Attica nightclub.
https://www.capitalpictures.com/image/I0000XydiyG7Ddu8
https://www.capitalpictures.com/image/I00007OTyINpC_CQ
https://www.capitalpictures.com/image/I0000T.lV8wyvmv0
5th Birthday
Babestation's 5th birthday party took place on 29th November 2007 at Embassy nightclub. Tiffany Chambers was used for the promo material where flyers invited members of the public to celebrate at the club. Flyers also stated that model scouts would be in attendance, for all those wannabe babeshow girls out there.
Unknown Event
The event below was snapped at one of Babestation's many parties. This event wasn't in aid of anything. Although judging by the cake it may have been a birthday celebration. It was in any case a fun jolly for the sheer fuckoffness of it. The gallery features veteran babeshow girl Tara Lee, Yvette Merrimen, Cara Mathews, Keisha Kane and Tiffany Chambers.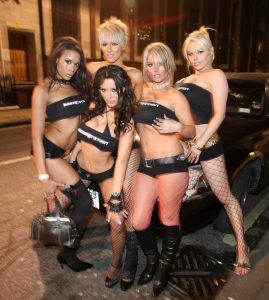 They sure had a hell of a time in the back of the limo with the Babestation producer:
Halloween party 2010
Babestation's 2010 Halloween party was an extravagant affair at a top London night. The best bottles of booze were laid on as well as the hottest babes in the British babeshow and porn industry.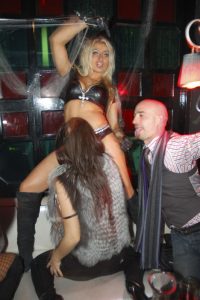 And the photographers were snapping away.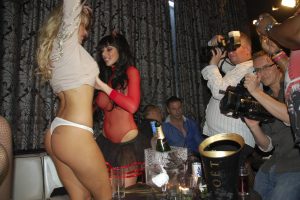 Models such as Camilla, Dani O'Neal, Lilly Roma and Tina Love were in attendance in their full-on spooky attire.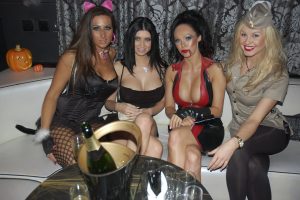 As well as pornstars Ree Petra and Chelsea Hart, who weren't shy about flashing their tits in the club.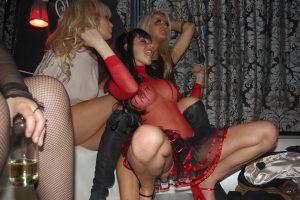 Chelsea can be seen in one photo bending over and pulling her knickers to the side to display a graphic view of her shaved pussy.
BSXtra Launch Party
Here's the R/A promo for the Babestaion Xtra channel launch party: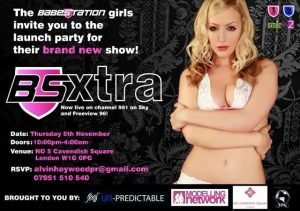 LINEUP
DJ TONY T , DJ KEVIN O'LEARY & DJ ROB BLAKE (House & Electro)
OFFICIAL LAUNCH BABESTATION XTRA!!!
THURSDAY 5th NOVEMBER 2009 (GUY FAWKES NIGHT) @ NO: 5 CAVENDISH SQUARE, W1 THIS EVENT WILL BE FULL OF TOP 200 BABESTATION MODELS….
DJ TONY T , DJ KEVIN O'LEARY & DJ ROB BLAKE
HOST UN- PREDICTABLE,THE PLATINUM LIST & MODELING NETWORK.
DOORS OPEN AT 10PM-3AM – STRICT DOOR POLICY!!!
£20 – TABLE ARE HIGHLY RECOMMENDED!
2014 Birthday
This clip from Babestation's birthday episode in 2014 was taken backstage where Ruby Summers was the games master, who had to set the babes to task with a variety of fun and sexy games. Starting with Suck 'N' Blow – no, there were no blowjobs involved. The game involves passing a piece of card between the lips of the models. If the model's suction wasn't on point, the card would fall and she would end up lip to lip with another babe.  The babeshow models involved in the show include Beth Bennett, Lacey Lorenzo, Levi, Caty Cole, Leigh Darby and Maddy Rose.
New Years Eve 2018
Below is a series of pictures found on Twitter (a.k.a X) that appear to be screenshots from New Years Eve in 2018. The pictures feature the holy grail of babeshow models – Alice Goodwin, Ashley Emma, Twins Preeti & Priya, Lori, Atlanta Moreno, Nicole Snow and Scarlett Jones. There were definitely fireworks that evening, with lots of solo masturbation Pervcam shows and lesbian girl-girl action.
Biggest party animals
The babeshow and XXX porn industry is well known for its wild parties and even crazier models. However, some babes top the list as the biggest party animals and out of all the babes that have come and gone throughout the past 20 years that Babestation have been on the air, two names spring to mind. First we have Tiffany Chambers, the hottest model in BS history. Tiffany was a petite 5'3 model who became an icon in the babeshow industry and one of the most popular babes in XXX babe channel history. Known for her naughty onscreen antics and mischievous nature, Tiff was nicknamed 'The Body' by fans. Did you know that the Babestation shield was modelled on Tiffany's curves. Many parties involved Tiffany stripping fully nude and taking body shots off of her fellow Babeshow colleagues. Next up is Camilla – she joined Babestation in 2008, where she became an icon alongside Tiffany Chambers, Dani O'Neal, Delta White, Dionne Mendez, Caty Cole, Donna Duke and Amanda Rendall. She would get up to lots of mischief not only during the Babestation parties but also behind the scenes on the show. Camilla had more energy than the energiser bunny and she loved to make out with her hot friends during events.