This weekend on BSX – If you enjoy interacting with British pornstars  on the live babeshows – come on over to Babestation X, the premium adult entertainment channel that hosts live sex shows and explicit porn videos. At BSX we provide only the best entertainment, from a lesbian girl on girl action and solo masturbation to boy-girl Mr.P blowjob action.
Let's check what's happening over the weekend on Babestation X!
Friday 2nd June on BSX
This Friday from 10pm, British porn star Amber Phoenix invites you to call her for filthy phone sex or send a buzz to her vibratoy. She cannot wait to strip naked and toy her shaved pussy to orgasm!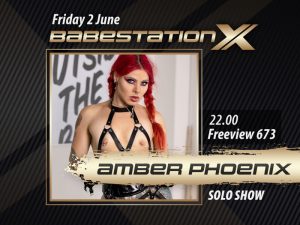 Saturday 3rd June on BSX
Epiphany Jones and Roxee Couture will be starring in a live girl on girl action show featuring nude striptease, pussy eating, fingering and toys. Call them for hot phone sex or send a buzz to their vibratoys and watch them climax.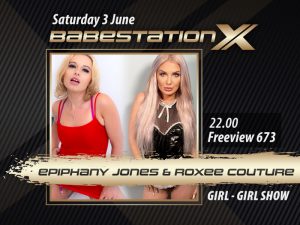 To watch Babestation X – Go to Freeview Channel 673 and press the red button to access the X-rated action. No subscription necessary. Watch exclusive content featuring Babestation's hottest British porn stars like inked Zoe Grey, Anna Lei and Sensi the dirty cleaner.
Unlock an exclusive experience by becoming a VIP member and gain unrestricted access to a plethora of X-rated content. Explore a diverse range of genres, including amateur porn, feet worship, BDSM, British mature porn stars, nude 18+ teens, Latina porn and more! As an added bonus, when you register on babecall app, you can enjoy complimentary clips of BSX on your mobile device or web. Don't miss this opportunity to delve into a world of explicit entertainment and satisfy your wildest fantasies.
Coming up on Babestation Cams
Poppy May strips off and gets wet and soapy in the shower, Stella Paris invites you to watch her play with her vast toy selection, Kiah Monae edges you to the brink of orgasm with JOI sex chat and Azura switches her fuck machine to 'rough fuck'! All this and plenty more on BS Cams!
For cheap phone sex with the hottest TV babes:
Gain access to the hottest XXX private video content:
Friday 2nd June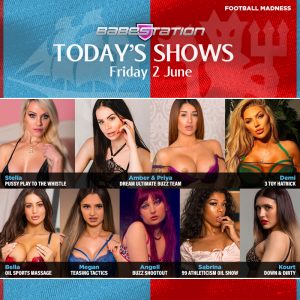 Saturday 3rd June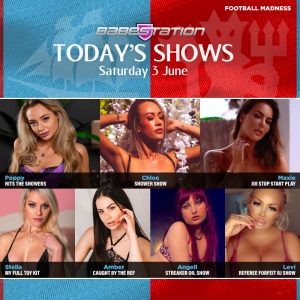 Poppy May | 20:00 – 04:00 | Hits the showers
Amber Paige | 20:00 – 04:00 | Caught by the ref – Mr.P
Stella Paris | 20:00 – 04:00 | My full toy kit
Maxie Rhoads | 20:00 – 04:00 | JOI Stop start play
Levi | 20:00 – 04:00 | Referee Forfeit BJ Show
Angell Delight | 20:00 – 04:00 | Streaker Oil Show
Chloe Mae | 20:00 – 04:00 | Shower Show
Sunday 4th June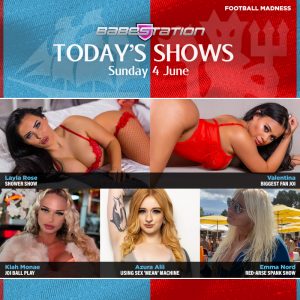 Layla Rose | 20:00 – 04:00 | shower show
Kiah Monae | 20:00 – 04:00 | JOI ball play
Azura  | 20:00 – 04:00 | using Sex "mean" machine
Valentina | 20:00 – 04:00 | Biggest Fan JOI
Emma Nord | 20:00 – 04:00 | Red-Arse Spank Show