I had spent the entire day buzzing Brookie Little's Lush 2 vibratoy on Babestation and I was gagging for more. Blonde Brookie has always been my ultimate fantasy UK porn star on the babeshows and I often watched her XXX porn videos on Pornhub, BSX, OnlyFans and her naked video clips on Twitter. When I saw that she was logging on to webcam I jumped at the chance to get more personal and indulge in some hardcore phonesex. Brookie was completely topless when she answered my call but I couldn't see her big boobs as she was lying on her front propped up on her elbows. Her seductive curves looked sensational and I could now clearly see was completely nude with her peachy ass on full display. Wow!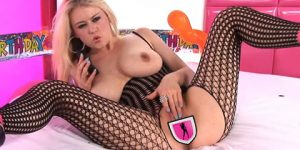 Brookie recognised my name and said she really enjoyed me buzzing her Vibratoy dildo on Pervcam earlier. I asked her if she had an orgasm and she said that she did but that her sex drive was so high she needed to climax again. I asked Brookie to show me her sexy naked figure and she obliged by kneeling up and giving me a full frontal view of her big natural tits and trimmed pussy. She gropes her boobs and asks me if I've ever had a tit wank. All my previous girlfriends have been very small in the breast department so a tit wank was never something I was lucky enough to try. I think because I've only experienced small tits in my personal life I was always extremely interested in big tits when it came to the babe channels. Brookie told me that she gives a fantastic tit wank and I found my cock standing to attention at the mere thought of it.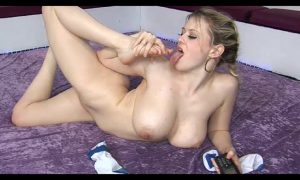 Not wanting to cum too soon I asked Brookie if I could watch her fuck her pussy with her fingers or a dildo before moving on to the tit wank. I thought she might say no but she eagerly began to finger fuck her wet pussy like she was in a UK porn film. She then pulled out her fingers and I noticed how dripping wet they were . She must really be enjoying herself. She then reaches for her vibratory and we finish by climaxing together as I buzzed the toy. I was hoping to make her squirt but I didn't quite manage. Maybe next time. I also never did manage to hold out for the tit wank so that will have to wait for next time too.
Fancy some role-play fun? Watch Brookie's College Girl video
Cam with Brookie by following this link