When it comes to great phone sex, there's not many girls who can do it as well as Tiffany Chambers.  The legend herself who was once considered the face of Babestation due to her massive popularity and the amount she would feature on the shows, appearing anything from twelve to eighteen times or more on the nightshows in any given month as well as regular appearances on the far more dirtier, BSX pay-per-view show.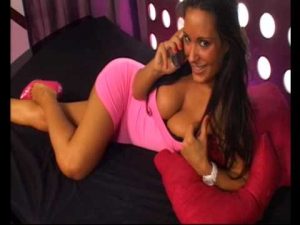 It's on these shows that you could watch and listen to Tiffany do what she does best, that would be getting herself into a variety of sexual positions, strip from her always brightly coloured and unique outfits and give you the hottest JOI, (Jerk Off Instructions) you've ever heard.  If you've never had the pleasure of catching one of Tiffany's nightshow phone sex performances or BSX shows you can familiarise yourself in many ways.  Firstly by becoming a VIP Member and accessing the vast library of pics and videos which include Tiffany's photo shoots and JOI videos both solo and with her pals Charlie C and Kandi Kay.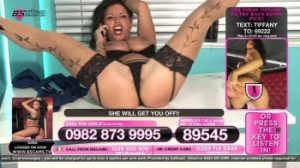 You can also visit babestationtube.com and searching Tiffany.  There you'll gain access to a range of rarely seen videos and even previously thought lost content from the old days of Babestation where you can here the babes in action.  Including videos like this Tiffany Chambers sex chat video where you can listen in to Tiff doing her thing, giving one lucky caller the wank of his life as she gets him off with her own unique brand of phone sex filthiness.
There are no added network charges, just call through your babecall account.
New users get an extra 50% on your first top up !! Hot Live Phonesex with Top UK babes. Live Cams. Sign Up for Free No credit card needed.