Did you know that Sean Wright-Phillips sporting business man and British former footballer, had a hand in partially financing Babestation TV? No, we aren't pulling your leg, Sean Wright-Phillips, the former winger who played in the Premier League and Football League for Manchester City, Chelsea and Queens Park Rangers, actually put some of his own hard-earned footy cash into stocks for the most popular live babe channel in the UK.
Following in the footsteps of other ex-pro footballer entrepreneurs such as Fred Smerlas, Fran Tarkenton and Alex Rodriguez, Sean Wright-Phillips bought an undisclosed amount of Babestation shares. Although he claims it's less than £20,000 in his 1Xtra interview, it's clear from his tone that he doesn't want to divulge the true number. A journalist compared Sean Wright-Phillips' tone to that of a schoolboy who had just been caught looking at the ladies on page 3. When prodded for more information about his raunchy investment, Sean Wright-Phillips steered the conversation in another direction and compared the situation to Joe Cole who had to "listens to his own music" but "he doesn't want to mix it". What he meant by this was that he might have bought shares in live tv sex show, Babestation but he insists he doesn't watch it himself.
I don't know about you but if I was Sean Wright-Phillips I'd be worried about telling porky pies. No man, footballers included, can resist our babes. We have the hottest talent in the UK appearing on Babestation and it wouldn't be the first time our babes have been connected to a footballer. Alice Goodwin was married to a footballer, whilst Alex Le Tissier is the daughter inlaw of ex England football, Matt Le Tissier. And fell out with her footballer father-in law.
Chuff Chuff
Depending on your music taste, you may or may not know what Chuff Chuff is/was. It was an idea championed by Jim 'Shaft' Ryan who started the event because of his love of house music. His legendary parties, Chuff Chuff and Miss Moneypenny's, first began in the late 80s where he traveled the world spreading the message of his love of house music. He held a residency in Ibiza since 1995 and has released over 20 compilation CD's. Chuff Chuff events were exclusive and decadent. They were usually held in secret locations including upmarket hotels and Manor Houses across the country, with the location only being disclosed a few hours before the event was due to begin.
Club DVD, the media department behind Chuff Chuff, were invited to take a look behind the curtain at the Babestation studios back in the early 2000s and they wrote about their findings in a popular British lads mag. Take a look at the clippings from the magazine article.  The models featured are Yvette Merrimen and Tiffany Chambers, one of the most iconic live babeshow models in TV history.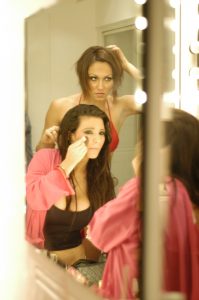 The interviewer is curious to find out what goes on behind the scenes of a live babe channel. The interviewer even had the opportunity to listen in on one of the model's calls. They found the idea of eavesdropping on an X-rated call both a turn on and also highly amusing. Jennifer Keelings was on the channel at the time and she couldn't wait to divulge the details of her dirty sex chat to the interviewer. Jennifer was joined by Dani O'Neal as you can see from the clippings. The article also contained a short bio about each girl who was appearing on the show that evening.
Bad Behaviour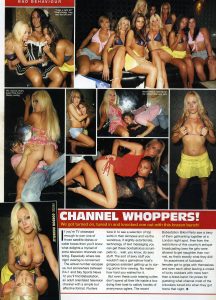 Another feature of forgotten pictures appeared to have been snapped at the Babestation Bikini Party that was hosted in a London nightclub around 2006/2007. The journalist describes the models as "an assortment of fucktastic females" who "got to grips with themselves and each other leaving a crowd of clubbers with more horn than a brass band". Some of the attendees included British pornstar, Delta White, Dani O'Neal and Tiffany Chambers. Delta has starred in over 100 porn films for Brazzers, Fake Taxi, Bluebird, BSX and Pornhub. She films hardcore boy-girl and lesbian girl-girl across as well as popular genres including BBC, bang bang, creampie, cum facial, BDSM, bondage, JOI and bukkake. You can find Delta's movie scenes as well as gallery pictures and videos of Dani O'Neal and Tiffany Chambers in the VIP member area.
Babestation Party Flyer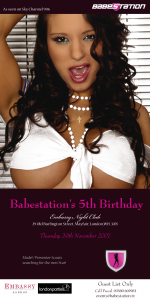 Can you believe this flyer was sent out 15 years ago! The event was in celebration of Babestation's 5th party and was hosted at Embassy Nightclub in London. The event took place on 20th November 2007 and featured Tiffany Chambers as the cover girl. Tiffany was known as 'The Body' because she had the most phenomenal curvy physique and big tits.
The Babestation shield was modelled on Tiffany: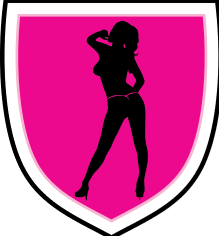 Cover Girl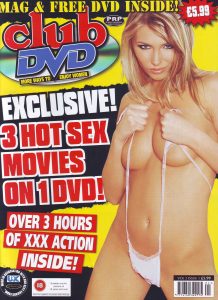 Our babes have been featured on multiple magazine and DVD covers. From Alice Goodwin in Front, Loaded and Nuts to Jada, Preeti, and Priya. The babe you can see here featured on the cover for Club DVD is Stevie Louise Ritchie. Stevie is a blonde Scottish glamour model who made her babeshow debut when she was a teen 18+.
Front Magazine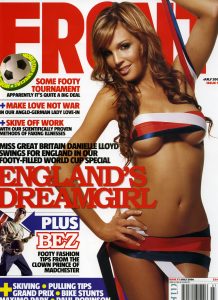 Our girl Dani T was featured on page 24 of Front Magazine. Danielle Lloyd was on the cover. For those of you who don't remember Dani T, she was a glamour model who appeared in Page 3, the Daily Sport, Loaded and Zoo. She featured on numerous live babeshows including Sexstation, Babecast, Studio 66 formerly Elite TV and Bang Babes. Dani T playfully called herself a WAG because she liked to sleep with footballers and she owned two dogs who she named Champagne Kisses and Babydoll Diamonds.
Keep an eye out on Monday for Part 2 of Babestation In The News , the 20th Birthday Special featuring some choice examples of Babestation's appearances in the news and lads mags from the early days of the show.