Wales' heartbreaking loss to a revitalised Iran on Friday brought the full, boisterous clubhouse of Monmouth Town FC, to a momentary halt. Thoughts soon shifted to the first match between England and Wales in the World Cup finals, and maybe an entire nation's hopes. Steve Davies, the manager of the Welsh regional league team, is certainly not a man to give up. He spoke about his core values – community, family, and resiliency. He told the Guardian:
"Where there's a football match, there's always hope. There's always a belief that they can produce something special. We've done it before in the Euros – so hopefully, we can do it again on an even bigger stage."
The Three Lions defeated Iran 6-2 to kick off their campaign in style. But the USA held Gareth Southgate's team to a draw, preventing them from earning an early last-16 qualification. However, England is still in Group B's driving seat to advance, and they can do so by defeating Wales on Tuesday. The question is…who will you be supporting?
On the Babeshows we have an eclectic mix of babes. We think we can guess who will be supporting Wales in the World Cup. Wales have got to the world cup for the first time since 1958 so what better way to celebrate than to commemorate the hottest Welsh babeshow models. Meet the Welsh babes:
Chloe had been a live babeshow model for the past 3 years. She specialises in financial dominance and foot worship, among other forms of domination and humiliation. She is keen to act as your professional dominatrix, and nothing makes her more excited and gets her pussy wet than cleaning your wallet and giving you JOI over the phone. By the time she is finished with you, you will comply with all of her instructions and become putty in her hands.
Ellie is fairly new to the world of camming, but she's eager to show you a good time. She wants to give you a night you won't forget and make you quiver with excitement at the sight of her nude / topless curves and shaved pussy. Allow her to give you the VIP treatment you deserve. She might look sweet and innocent but she has a devilish side to her. Enjoy adult phonesex with Ellie or check out her Pervcam for a closeup view of her incredible ass.
This Welsh redhead (you know what they say about redheads), has been working in the XXX British porn industry for just over a year. She loves attention and is a bit of an exhibitionist. You'll see this when you take her private on cam or call her on the babeshows. She loves to strip nude! She enjoys the tease and she claims to have edged a guy for hours resulting in the best climax of his life.
You're in for a real treat if you want to see a hot glamour model play with her big tits and toy her shaved pussy. Tara May enjoys performing topless and nude on webcam, Pervcam, and the live babeshows. If you're seeking an intimate British pornstar experience with tons of naked action, JOI, BDSM, roleplay, feet worship and bondage, Tara May is ready to fulfil all of your fantasies. She definitely be flashing her tits and ass for Wales
Speaking of Wales, you should take a look at a recent blog detailing the top 10 Welsh Pornstars. Their team might not be coming in strong, but their Pornstars sure are top notch! Did you know Sophie Dee, the well-known AVN-winning Pornstar is a former Babestation model and proud Welsh native.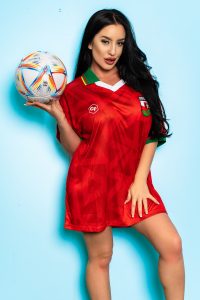 Check out the picture gallery for hot England vs Wales pics of Tara May and Amber Paige repping their teams!
Babes who will be supporting England:
Danni Levy is a massive football fan and she looks smoking hot in her England t-shirt. With her enormous huge tits, big ass and hilarious phone banter, you're always in for a good time with Danni. She doesn't always follow the rules, and she frequently gets in trouble for acting inappropriately on the daytime show but we wouldn't change her. Check out her Pervcam shows and nude pictures / videos in the VIP members gallery.
At first glance, you might think of Amber to be a teen 18+ college girl but she is in fact in her twenties and eager to show you a good time. She loves roleplaying, and depending on what you want, she can play your sub, dom, sexy secretary, or shy girl next door. Take her private for some XXX porn action, or check out her Pervcam for a sneak peak at her shaved pussy and sexy ass!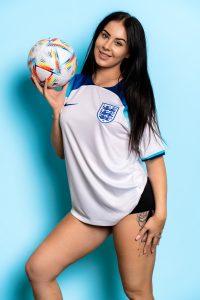 You can expect nothing less than the best from this hot blonde beauty. Hannah's daytime babeshow appearances and Pervcam hidden camera broadcast is the hottest thing you'll ever see. If you're looking for a princess to spoil, Hannah is happy to fill those shoes. She enjoys exploring different kinks and she specialises in kink, feet worship, BDSM, nylons, latex, leather, bondage, ASMR, domination, and humiliation.
Preeti and Priya are hot Irish/Indian twin sisters who originally joined the ranks of Babestation when they were teens. They are seasoned babeshow performers who have become huge stars on Onlyfans and webcam. Their babeshow clips can be found on Pornhub and Babestation Tube and they have made previous appearances on S66Cams and Studio 66 as well as Sexstation and Partyland. These babes will be cheering for England in the World Cup.
Breaking news from Amber Paige…should England win the world cup, Amber Paige has said that she will do a full 24hours of live naked camming!  She recently told The Daily Star: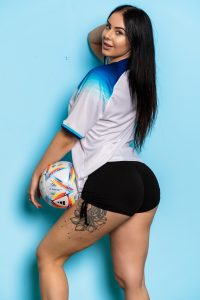 "It will be a fun show, I mean it will have to be because it will be for 24 hours and otherwise I will be flagging.
"I've not really looked at times yet. I could do it straight after they finish the game or I could do it the day after the final. I will start looking at details once it's looking a bit more promising that they will win, maybe after the group stages."