Are you ready for a weekend full of steamy and exciting shows with some of the hottest phone sex stars in the industry? Babestation X is back with a bang, bringing you exclusive solo and girl-on-girl live shows featuring Beth Bennett, Jess West, and Cici Anders. This weekend event promises to be one of the most unforgettable experiences for adult entertainment fans. But how can you watch it? In this blog post, we will cover all the different ways you can access Babestation X, including VIP membership access and Freeview Channel 673. Plus, we'll also talk about the benefits of getting a VIP membership, so you don't miss out on any of the action. Get your tissues ready and buckle up for an erotic ride filled with pleasure and desire!
Babestation X Weekend Event
The highly-anticipated Babestation X Weekend Event is finally here! Fans of the popular Babestation models and British porn stars can rejoice as Babestationx model Beth Bennett, Jess West, and Cici Anders come together for this exclusive event. Featuring live babeshows, interactive webcams, and pre-recorded content, it's an experience you won't want to miss. Access to the event can be purchased through the BSX page or by pressing red on Freeview channel 673. Get ready for a weekend full of excitement and titillation with your favourite stars!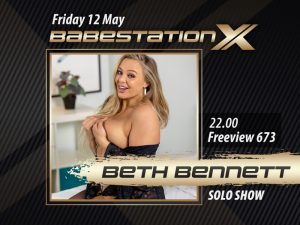 Solo Sex Show with Beth on Friday Night
When it comes to erotic performances, Beth is one of the most popular performers in the Babestation X roster. Her sultry voice and seductive moves have earned her a devoted fan following. During Friday night's solo sex show, viewers can expect an intimate and steamy experience with big tit porn babe, Beth. As she performs live, fans will be able to interact with her and make their free British porn fantasies come true. Don't miss this chance to witness one of the hottest solo sex shows around.
Girl on Girl Live Show with Jess West and Cici Anders
British porn stars Jess West and Cici Anders will be performing an electrifying live girl on girl show during the Babestation X weekend event. As viewers tune in, they can expect to witness a thrilling performance that pushes the boundaries of adult entertainment. The interactive nature of the platform allows fans to request specific acts or role play, making it a unique experience for everyone involved. Babestation X provides a safe and exciting space for adults to explore their erotic fantasies and desires. Don't miss your chance to see these popular performers in action!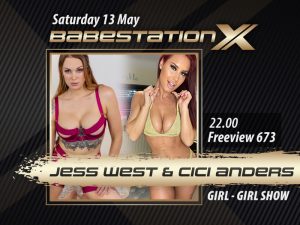 How to Watch Babestation X
Babestation X can be accessed online through the BSX page or Babecall mobile app. Additionally, the channel is available on Freeview Channel 673 for viewers in the UK. With live shows, exclusive content, and interactive features, Babestation X offers a unique and engaging adult entertainment experience for its audience. Whether you're a longtime fan who has enjoyed other babe channels like Studio 66, Red Light Central, Xpanded and Sexstation or a newcomer to the world of live babeshows entertainment, Babestation X provides a platform to explore your fantasies and desires.
VIP Membership Access
Enjoy the full Babestation X experience with a VIP membership. Get exclusive access to all live shows, replays, and premium content. With a VIP membership, you can indulge in your wildest fantasies anytime, anywhere. Choose the membership option that suits you best on the Babestation website and take advantage of this unique opportunity to explore your desires in a safe and discreet environment.
Freeview Channel 673 Access
Accessing Babestation X through Freeview Channel 673 is a convenient option for viewers who prefer watching adult content on their TV. To watch the channel, you will need a Freeview box or TV with built-in Freeview capabilities. If you have an older TV that does not have Freeview, purchasing a set-top box will provide access to the channel. Once you have access to Freeview Channel 673, you can enjoy live and uncensored adult content featuring popular Babestation models such as Beth, Jess West, and Cici Anders. However, please note that this channel is only available to viewers aged 18 and over.
Benefits of Babestation X VIP Membership
If you're a fan of adult content and want access to exclusive shows, VIP membership to Babestation X is the way to go. With your membership, you'll have access to all Babestation X shows, including live shows, replays, sexting and exclusive content featuring popular British porn models like Beth, Jess West, and Cici Anders. VIP membership comes in different tiers, so you can choose the option that best suits your needs. Whether you're looking for unlimited access or want to try it out for a limited time, becoming a VIP member is worth considering.
Conclusion
This weekend, Babestation X is bringing you a scintillating lineup of erotic shows featuring Beth, Jess West, and Cici Anders. You don't want to miss out on the solo sex show with Beth on Friday night or the girl-on-girl live show with Jess West and Cici Anders. To watch Babestation X, you can get VIP membership access or tune in to Freeview Channel 673. With VIP membership, you get exclusive access to all the shows, behind-the-scenes content, and more. Don't wait any longer; join now and experience the ultimate adult entertainment experience with Babestation X.