Originally posted on 18th June 2014, even back then this was a flashback blog, as it looks back at Babestation Xtra around 2011 and the days when top Asian/British pornstar Leah Jaye made her appearances on the show.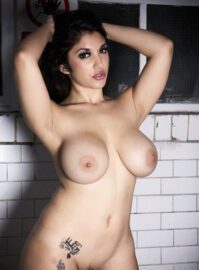 Babestation's progression towards a more cosmopolitan lineup was probably most closely associated with the arrival of the massively successful Priya and Preeti Young in August 2010. Numerous babe channel babes of the noughties did have international connections, but it was Jada who in 2009 stepped forward to define the more obvious exotic image many fans were looking for. There was a whole year between the Freeview debut of Jada, and that of twins Preeti and Priya, but in between those two major events came some other memorable steps in the spicing up of Babestation's image: in particular the re-acquisition of Rochelle (now known as Savannah Mai), and the hiring of Leah Jaye.
Check out Leah Jaye's profile page here.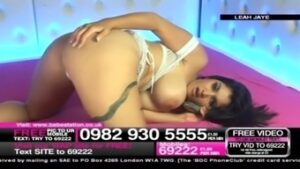 Whilst Leah's image was high glamour with an alternative edge, even from the days of Leah Jaye's first Babestation shoot, her approach was laid back and girl-next-door, and this was a refreshing combination for fans, particularly in mid 2010 when everything else seemed to be moving at a hundred miles an hour and there was a lot of posturing going on.
Leah kicked off her eventful one year spell on the Freeview babeshows on the night of 9th to 10th July 2010, and was first introduced by former adult industry colleague Karina Currie. It was a Thursday to Friday, but it was a big night on Babestation, featuring nine babes including Geri, Camilla Jayne, Dani O'Neal, Georgie Darby, Ella Jolie, Charlie C and blonde newcomer Sugar. Add in Karina and Leah, and that was a serious line-up. Above, you can see Karina (left) introducing Leah on that first night.
In fact, the Freeview audience would probably already have known Leah pretty well from her previous involvement with rampant tv shows like sexstation Television X, and that hints at one of the additional benefits of Babestation hiring Leah… Namely, her compatibility with Babestation's encrypted channel – Babestation Xtreme. Leah went on to make an array of acclaimed appearances on Xtreme a.k.a. BSX – very notably a particular live show in November 2010 with Michelle Moist, which, for a reason Babestation themselves will probably never forget, remains by far the most remarkable episode of BS Xtreme ever broadcast.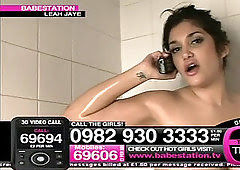 Babestation shower sequences have been very rare in the Teleshopping era, which, although it didn't officially begin until 1st September 2010, was really already in operation long before that, as the shows had dropped all attempts to justify themselves as editorial matter and morphed into out-and-out adverts. I don't have any record of a shower sequence on a BS Freeview show between the spring of 2010 and the isolated gem above, transmitted on 3rd September 2010 and featuring Leah Jaye. There were a few subsequent one-off shower sequences on Babestation, but they didn't seem like great money-spinners, and even going back to their Freeview heyday in 2009 they were by far the most likely setting to undergo an impromptu set change (a move to a bed) after a short amount of screen time.
For Leah's final night on Babestation, she was, unusually, the main sales presenter, standing in for the usual partnership of Geri or Megan. The date was Sunday 3rd to Monday 4th July 2011, and in the image above, the scene looks like a very happy one, with Leah presenting Priya Young's pic promo as Priya takes phonesex calls. But this was to be a farewell to Leah for the Freeview audience, and just two days later, the sultry beauty was confirming what looked like a reluctant departure from BS.  See more of Leah Jaye's content including naughty college girl pics and other kinds of porn videos by joining the Babestation VIP members area.