The History of Babeshows – 20th Anniversary Special
As part of the celebration of Babestation's 20th year, here's a special look back on the history of the babeshows as we know them today through 20 years of evolution.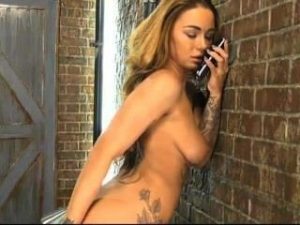 We couldn't possibly do a rundown of the babeshows throughout history without first looking back on where and how phone sex began.
The phone sex industry has many myths surrounding it and whilst most are utter nonsense, one tale claims that it all began when a couple of men worked as telecom engineers. Together they put a number of telephone lines in an abandoned public restroom in the early 1980s. At the end of each line was a cassette player that played a naughty recorded story that looped. Netflix even released a show about it, titled 'Dirty Lines.' Here's the official synopsis:
"The story of Dirty Lines starts in 1987's Amsterdam, at a time when Dutch society was changing rapidly. Psychology student Marly Salomon takes on a side job working for a brand new firm: Teledutch – a company started by two brothers, Frank and Ramon Stigter, who established Europe's first erotic telephone lines."
….and so it began. Each story was recorded by a woman with an extremely seductive voice who would describe her fantasies in fairly graphic detail. Words like "Fuck" was avoided as to not be too crass. The woman could then be heard on the recording "reaching orgasm" as her story came to an end. Although premium rate billing had already been developed by British Telecom, phonesex was strictly prohibited. Therefore, it took a lot of balls and a great mind for business to launch these smutty sex lines.
The XXX phone numbers were initially printed on cards and left in phone boxes or promoted in the back of newspapers. British Telecom had a tough time figuring out which numbers were being used for phone sex but they cut the lines whenever they caught one. However, the guys found a way around this by having hundreds of numbers prepared. British Telecom eventually developed the 0898 number, which was to be used exclusively for X-Rated calls. The phone sex industry was official!
Babestation
Babestation was the first interactive babeshow of its kind, debuting on December 4th 2002. In the beginning, Babestation presented a blurry live stream of three women seated next to each other on a couch with a text box visible on the screen. In the beginning, the models didn't appear topless or nude. By flashing her tits one night, Taylor McKenzie became the first babeshow model to ever appear topless on a babeshow, sparking a brand new idea. Around 2005, Babestation started to gain international recognition, and since then, well-known celebrities, TV panellists, and radio DJs have all discussed the company in the mainstream media. Tixie, Tiffany Chambers, Dani O'Neal, Gemma Cherry, Camilla, Cara, Yvette, Tara Lee, Geri, Caty Cole, Amanda Rendall, and Delta White were some of Babestation's biggest icons around the era. Babestation has constantly been changing throughout the years, but it still has its top performers, which right now include Ashley Emma, Alice Goodwin, Beth Bennet, Twins Preeti & Priya and British pornstar, Atlanta Moreno.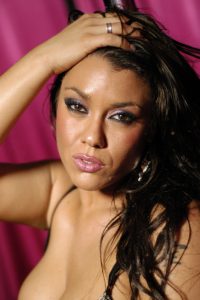 Dani O'Neal, the iconic star of the babeshows, is known as the 'First Lady of Babestation,' owing to her celebrity status in the babe channel industry. Dani was present from 2003 and maintained her position of excellence until her retirement from the babeshows in 2016. There were many models that came before her but Dani O'Neal is where the true recognition of a babe channel model first began. A star was born the day Dani stepped in front of the Babestation camera and other models have since followed in her footsteps, such as Tiffany Chambers, Vicky Valentine and Camilla Jayne. Dani was a well spoken, articulate phonesex operator and skilled TV presenter. She could do it all – roleplay, BDSM, domination, humiliation. Whatever a caller wanted, Dani could deliver.
Babecast
A short time after Babestation appeared on the small screen, Babecast debuted with a variety of setups, including the usual bed set, office, and hospital. Girls would roleplay in their assigned sets wearing lingerie and allow viewers to call and text the babeshow. Dionne Mendez, Jane Whitehouse, Vicky Valentine, Donna Duke, Caty Cole, Fernanda Ferrari, Jemma Jey, Megan Moore, Jennifer Keelings, Morgan, and Reede Fox were some of Babecast's most well-known stars. A large number of Babecast's models later moved across to other channels such as Studio 66, Playboy TV, Red Light Central and Xpanded.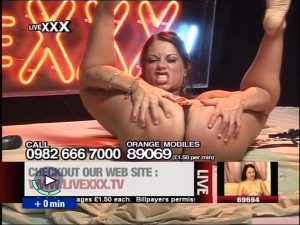 This Sky channel had an interactive segment where you could call up and get filthy for an hour in the evening before moving to pay-per-view where the X-Rated action happened – which was hardcore girl-girl sex! Live XXX would do a brief segment of "flash the gash" at the end of the free to air hour to tempt viewers to purchase pay-per-view by showing them pussy.
Lads Lounge
The models on this early morning daytime chat show would accept calls and text messages from viewers, which would give them something to talk about live on air. Current mainstream TV star Katie Piper made her debut television appearance on Lads Lounge.
Party Girls was a nighttime show that was produced in the same studio as the daytime show, The Chat. It featured many of Babestation's biggest stars, including Yvette. Party Girls would entice fans to text the babeshow, which the models would then read out live on TV and react to. Yvette and the renowned Dani O'Neal smashed the Party Girls record for viewer text requests to the show back in January 2009.
BS Xtra
The majority of the focus of this show was on viewers texting in and talking with the model while she discussed the viewers' pictures and texts on the mic. Girls would entice viewers to call in later in the evening. The upcoming shows on Babestation and Partyland were also promoted on BS Xtra.
The Chat
The Chat was a daytime chat show similar to Loose Women that featured two models sitting at a desk. Viewers were urged to text in to discuss current events or phone the girls to chat about their day or discuss the topic of choice. Voicemails left by viewers could also be broadcast live on air. The producer would also sometimes appear on the show to interact with the girls and introduce themes. As part of the regular format of the babeshows, this was the first time a producer engaged with the models on screen.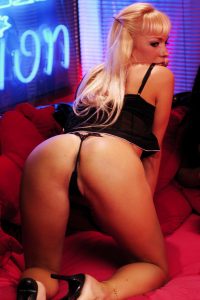 For more extreme content such as solo masturbation, pussy play, dildo action, girl-girl live sex and hardcore boy-girl, the web show, Sexstation, was a good option. Top UK porn stars including Angel Long, Poppy Morgan, Tammy Oldham, Karina Currie, Jasmine Jae and Alicia Rhodes once called Sexstation home. Sexstation debuted on the Lucky Star channel (Sky 910) from 9pm until early in the morning from 2006. Prior to changing its name to Sexstation, it was known as Live XXX for the first six months. Karina Currie, Tammy Oldham, and Kimmy Haze made their live XXX/Sexstation debuts as glamour models before going on to have hugely successful careers in the babeshow and porn industry. Karina was well-known for her BDSM, bondage, domination, and JOI segments, where subs would phone her for a detailed adult phone chat.
Blue Kiss
Blue Kiss was the ideal option for those who were unfamiliar with the babe channels and wanted to dip their toe in the water. Blue Kiss was the least expensive of the high-end babe channels, and fans could speak with models like Chelsea French, British porn actress Gem Stone, and Jada for just 75p per minute. Daryl Morgan, Alex Adams, and Reede Fox, well-known Babecast performers, would move to Blue Kiss for one-off weekend specials, which would give the channel a more upscale vibe.
Partyland
Partyland was the first babe channel to appear on Freeview. It featured the hottest and biggest performers from Babestation and had a polished, high-end feel. The majority of the show was staged with a girl on a bed taking calls against a pink backdrop, but sometimes Partyland would adopt a more gothic style and shoot a scene in the recognisable lift from the Sexstation studio.
Babestation in Mainstream Media
Sean Lock and Jimmy Carr discuss Babestation on the channel 4 show, TV Heaven, Telly Hell.
An indirect reference is made to Babestation on Charlie Brooker's television rundown show, Weekly Wipe.
Babestation is mentioned on the Big Fat Quiz of the 90s.
Babestation is referenced in the Channel 4 show, Drifters.
Babecall
With Babecall, you get to watch Pervcam and interact with the live Babestation girls for phonesex or naked XXX fun in a group setting or a more intimate, one-on-one private show, all from your smartphone!
Babestation Cams
BS Cams launched in 2013 with just a handful of girls. BS Cams now rivals the likes of Adultwork and MyFreeCams as one of the biggest and best live sex cam sites in the world. Customers can interact directly with international and British pornstars and cam girls 24/7. Babestation Cams was recently nominated for the 'Best Cam Site' award among other nominees: Chaturbate, Flirt4Free, Stripchat and Streamate, for the 12th annual YNOT Awards, which recognises excellence in the adult entertainment industry.
Top BS Cams Girls
Alice Goodwin, Amanda Rendall, Beth Bennett and Ashley Emma have all won 'No.1 Cam Girl' titles.
Babeshows Biggest Stars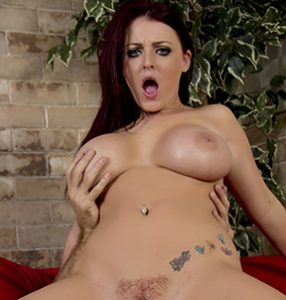 Babestation has been the first home of some of the world's hottest pornstars and glamour models. Welsh starlet Sophie Dee made her debut appearance on Babecast many years ago and has since gone on to be an AVN award winning pornstar in America, starring in boy-girl films, BBC, gangbang, anal and DP. She is also in the top 1% of performers on Onlyfans. Tanya Tate is another MILF porn star now residing in LA who first began her XXX career on the Sexstation bed. Very few models have ever made such an impact as Alice Goodwin. She started out as a lads mag fave (FHM, Loaded, Playboy, Nuts, Zoo, and Maxim) and appeared on Studio 66 before coming to Babestation in 2015. She was one of FHM's top 100 sexiest women and named "Hottest Topless Babe of the Year" by Zoo Magazine in 2009.