Welcome to our Kerrie Lee appreciation post but first let me just say, thank gawd it's Friday! for the past 3 days I've been counting down the hours until the weekend. Why is the first week of the new year always such a struggle? Possibly because I'm a bloated mess after stuffing my fat face with all the cheese and crackers at Christmas. FML! It might also have something to do with having 10 days off work and only leaving the house to go to the pub. Priorities!
Anyhoo, it's back to normality and time to prep for the next big event on the calendar, Valentines Day!!! I find people either love or hate Valentines day. if you're single you might be inclined to say a big "fuck you" to the 14th February but rest assured, we have your back! We will be enlisting the best talent Babestation has to offer this Valentines day so there is no need to feel glum. At least you won't be splashing out a load of wonga on an average bird who may or may not let you see her snatch at the end of the night. Our babes are a sure thing!
In other news, I was pleased to see our very own Kerrie Lee appearing on the front cover of the very prestigious Mayfair Magazine. Her platinum blonde pixie crop and massive oiled up hooters really are a sight for sore eyes. She's the perfect choice for any publication; exuding sexual energy by the bucket load! She's come a long way since the Kerrie Lee nude bar strip content.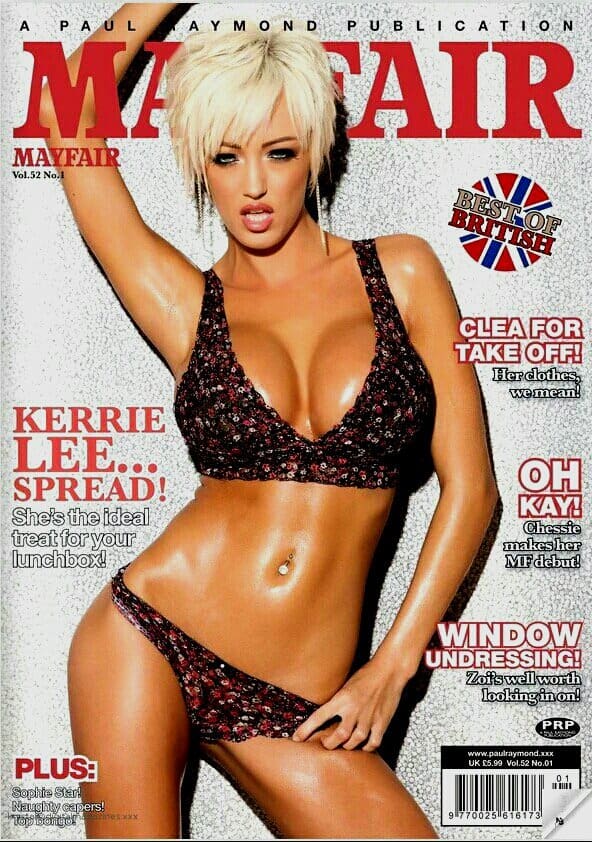 I also found out recently that this petite hottie has been featured in a few issues of The Sport and been given a double feature no less. I think this is just the tip of the iceberg for Kerrie and that we'll be seeing her in many more magazines in the future. Well done Kerrie!
Be sure to call Kerrie next time you see her on the show and offer her and big congratulations…then tell her to wop her fantastic boobs out!
Mwah
Reede xxx